By maria on Aug 3rd, 2015
SWAN has issued a letter of support for Amnesty International's Resolution and draft policy calling for the decriminalisation of sex work. Please, find the text of the letter below.
By maria on Jul 29th, 2015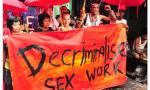 Amnesty International will be voting on a Draft Policy on Sex Work at its next International Council Meeting on August 7-11, 2015 in Dublin. NSWP has created a petition that calls on the Amnesty International Council to stand firm and support decriminalisation of sex work and protect the human rights of sex workers.