By maria on Jul 29th, 2015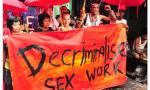 Amnesty International will be voting on a Draft Policy on Sex Work at its next International Council Meeting on August 7-11, 2015 in Dublin. NSWP has created a petition that calls on the Amnesty International Council to stand firm and support decriminalisation of sex work and protect the human rights of sex workers.
By admin on Nov 18th, 2011

Eurasian Harm Reduction Network followed the initiative of Latin American groups and developed a petition to the Global Fund's (GF) Board in advance of their meeting next week to express their concerns over potential negative implications of the GF reform following the recommendations of the High Level Panel. It started off as a regional initiative in Eastern Europe and Central Asia, but has now grown to represent broader regional concerns and focus on the communities of key affected populations.