By ekaterina on Jul 10th, 2015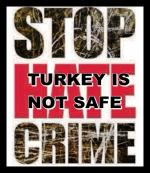 One of the founders of the Red Umbrella Sexual Health and Human Rights Association (Kırmızı Şemsiye), Kemal Ördek, was raped in their home on Sunday. Kemal Ördek shared the following text with LGBTI News Turkey in Turkish and explained the violence, the discrimination, and the fear.
By ekaterina on May 10th, 2015
All-Ukrainian League "LEGALIFE" activist Irina on the problem of violence against sex workers by the police.