Changes for sex workers in Bulgaria?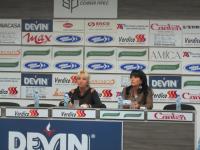 Some news clippings in Bulgarian:
• http://www.dnes.bg
• http://dariknews.bg
• http://bnt.bghttp://tv7.bg

Briefly it is said in these videos that sex workers in Sofia organize a protest against the police activity because recently all outdoor sex workers were detained by the police for 24 hours and were not able to do sex work. They want their profession to be legalized, to pay taxes and to be able to work undisturbed. These are mostly independent sex workers who have no pimps and work for themselves.

Update:
On 25th of October an NGO "Risk Monitor" released a Report called "Legalizing prostitution - Pros and Cons" and a press conference was held to present the report and its main conclusions.
Update:
On 1st of November 3 sex workers gathered and gave a press-conference called "There must be a law about prostitution in Bulgaria". Two of them participated live, another one was present via Skype. A news article in Bulgarian can be found here.
Video news reports from the press conference
• http://kanal3.bg
• http://www.btv.bg - national news
• http://bnt.bg - national news

Rayna Dimitrova a member of Hesed Bulgaria was at the press conference had the following important observations: Reni, one of the sex workers willing to speak publicly has come forward along with 2 other colleagues to fight for the visibility and rights of the group, new language was introduced at the press conference using the term 'sex worker' instead of 'prostitutes, whores etc' and the journalists acted and interviewed politely and with respect and adopted the term 'sex worker' immediately!
Efforts are starting to establish a sex worker led association what will advocate for the rights of sex workers in Bulgaria.