Prostitutes' Rally in Paris to Defend Their Rights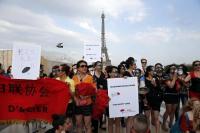 The demonstration was organized by the Sex Workers' Union (STRASS) and the association of Chinese prostitutes "Steel Roses". The protesters voiced their opposition to the bill that will be discussed on June 12 in the second reading at the Assembly, and should confirm the principle to punish those who use sex services of a sex worker.
The gathering was also an opportunity to remember the struggle by the Lyon prostitutes for their rights that took place 40 years ago, explained Thierry Schaffauser, spokesman of Strass. On June 2nd, 1975, a hundred prostitutes, led by Ulla and Barbara, had occupied the Saint-Nizier church in Lyon for a week to protest against police repression. This event and the broad media coverage was a turning point in the organization of "sex workers".
Forty years later, the situation has not improved, and punishment will only aggravate the situation, pushing sex workers towards more danger, said Thierry Schaffauser.
Some prostitutes came from European countries (Sweden, England, Scotland, Northern Ireland, Norway, the Netherlands) as they were invited by the European network of sex workers to discuss difficulties in their own country, as well as different legislation.
In Sweden, where the criminalization of clients has existed since 1999, prostitutes are even more stigmatized, explained Pye Jakobsson, a Swedish prostitute.
In Paris, the Chinese prostitutes are particularly vulnerable because they cannot speak the language, are often undocumented and they are victims of "police harassment", which impede them to complain if they are attacked by a client, told Aying, President of Steel Roses, hidden behind a butterfly-shaped mask.
A bill is to revoke the offense of soliciting introduced by Nicolas Sarkozy in 2003 and to establish in return criminalization of clients. During the short meeting in the end of March of the Senate (mostly right), MEPs removed punishment of clients penalty to restore the offense of soliciting.
Source: Liberation.fr