By ekaterina on 12 Jun 2017 - 16:53
Three men who have attacked Kemal Ördek (LGBTI activist and Chair of Red Umbrella Sexual Health and Human Rights Association)  are sentenced to 7 years and 6 months imprisonment for the attempted robbery.  The defendant, who Ördek has accused of raping her, is acquitted of sexual assault. All three defendants were sentenced for 7 years and 6 months in prison for the crime of attempted robbery.

By ekaterina on 2 Jun 2017 - 10:46
Today, on 2nd of June 2017, we mark The International Sex Workers' Day. On this day in 1975 French sex workers occupied the Saint-Nizier church in Lyon for 8 days in a desperate attempt to call attention to their worsened working conditions. On 10th June at 5 o'clock the Church was brutally raided and cleared by police forces.

By ekaterina on 26 May 2017 - 20:46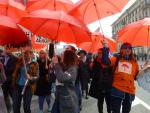 On 1st of May, the International Workers Day, Silver Rose has joined the march in St Petersburg for the first time. The participants were holding red umbrellas and different banners.


By ekaterina on 31 Jan 2017 - 01:17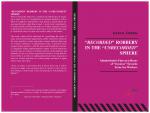 Here you can find a series of five publications about sex workers' rights violations in Turkey.

By ekaterina on 9 Jan 2017 - 14:25
SWAN members from Poland, Macedonia, Russia, Turkey, Slovakia and Ukraine commemorated the 17th of December with different events.

By ekaterina on 16 Dec 2016 - 18:40
Today marks the 13th annual International Day to End Violence Against Sex Workers. For thirteen years, sex workers have used this day to highlight the need for action to end violence against sex workers.