Ukraine: Prostitution should be legalized, says minister of health
Talking about the ongoing preparations for the UEFA Euro Soccer Championship that will take place in 2012 in Poland and Ukraine, Ukrainian Minister of Public Health Vasiliy Knizaiewicz recently stated that he supports legalization of prostitution.
------
"The problem (prostitution) will not disappear just because we ignore it", said Knizaiewicz earlier this summer. "I am concerned by the medical aspect of the issue and the possibilities to effectively reduce the rates of spread of sexually transmitted diseases HIV. If you ask me, I would legalize that sphere. Girls and women would then get physical and legal protection, and also access adequate medical services". "In the beginning of the nineties I voiced somehow rebellious thought supporting the legalization of prostitution. I did it because women were killed in violence in our region. But then everyone attacked me: how can you talk like this they said, and so forth. For the time being we will act through NGOs. With their help we will initiate a dialogue with women engaged in prostitution."
»
SWAN-TV
"Don't intervene in our bodies, identities or professions!"
Red Umbrella Association, Turkey
SEX WORKERS REPORT
Picture of the Month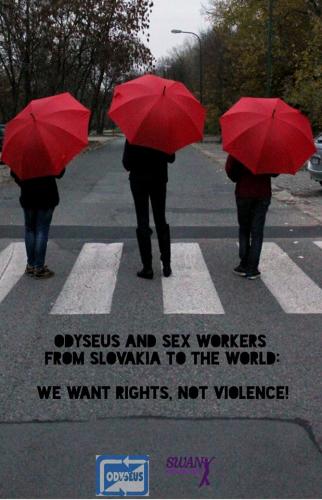 December 17, 2013 - Odyseus, Slovakia
NEWSLETTER ARCHIVES