Sex-workers participate in an exclusive fashion show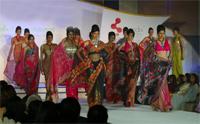 PTI
Saturday, March 7, 2009 20:00 IST
Siliguri (WB): Sex workers of this commercial hub of north Bengal on Saturday, participated in a fashion show, organised exclusively for them on the eve of International Women's Day.Twenty sex workers walked the ramp in the fashion show, jointly organised by the North Bengal Art Academy and Durbar Mohila Samanway Committee' (DMSC), an organisation of sex workers.
The show, first of its kind in the state, was aimed at building their confidence, the academy chief Somes Das said.
Das said the sex workers under DMSC had expressed their desire to organise a fashion show. Accordingly, the academy organised the show and invited guests from the locality who responded positively.
"We are delighted. We had been watching fashion shows in television channels since long. We have practised for past one week for the show. The only problem for us was to get a respectable audience. The organisers arranged that to our satisfaction," A spokesperson of the sex workers said.
"This would also help us to add a little decency in the trade," she said.
Source: DNA, India