Sex workers protest for more rights in Istanbul and Ankara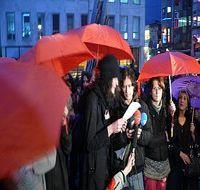 Sex workers in Istanbul and Ankara have protested on occasion of International Sex Workers' Rights Day (3 March). They demand acceptance of their work as an occupation and the right to organise.
Bia news centre - Istanbul-ankara
4 Mart 2009, Carsamba
Emine OZCAN

"Unfortunately, we cannot celebrate International Sex Workers Day, because we are always faced with violence. The police is also practising and reinforcing this violence."

Representing around 20 sex workers who had gathered in front of Istanbul's Galatasaray Highschool in Beyoglu, Eylem Cagdas read a statement.

Call for constitutional rights
She said, "We want neither discrimination nor privilege. We only want to make use of the constitutional rights we were all given at birth. Respecting sex work is not a favour, it is a constitutional responsibility."

The protesters carried red umbrellas, an internationally used symbol on the day. The day originated in 2001 when over 25 000 sex workers gathered in India for a sex worker festival. The organisers wanted to celebrate the lives of sex workers as well as highlight sex workers' determination and strength. Sex worker groups across the world have subsequently celebrated 3 March as International Sex Workers' Rights Day.

One protester, Derya, told bianet: "We don't have anywhere to work, so we are forced to walk the streets. But there we may face death. This week a friend of ours was savagely beaten. If I don't work, how will I get by?"

The statement was signed by the Women's Door (Kadin Kapis?), Lambdaistanbul LGBTT Solidarity Association, Amargi Women's Solidarity Cooperative, the Revolutionary Socialist Workers' Party (DSIP), the Global Action Group (KEG) and the Solidarity Network against Sexism.

Protest in Ankara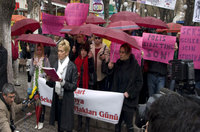 In Ankara, the day was marked by a group of around 50 people carrying placards and red umbrellas. The protest was organised by the Ankara Red Umbrella Sex Workers' Initiative.

Some of the placards read, "Health is also a right for sex workers", "We want a world without bosses and pimps", "End police violence", "End the labour hierarchy" and "Sex work is also labour".

The protesters made the following demands:
Sex workers' rights to life, personal freedom and personal safety have to be guaranteed
Sex work must also be accepted as a profession and certain standards must be set
Healthy and safe spaces must be provided
Sex workers must be able to benefit from social security rights just like other citizens
The right to organise must be safeguarded
Discriminating laws must be abolished, discrimination and police violence must end
Around 100,000 sex workers
According to data from the initiative, there are 56 brothels in Turkey with around 3,000 women work as registered sex workers there.

In the whole of Turkey, 15,000 women work as registered sex workers. However, many women and men work in this sector unofficially. Refugee and transsexual sex workers are not included in these numbers either.

The initiative estimates that there are up to 100,000 sex workers in Turkey.
In Ankara, Istanbul and Izmir alone, around 30,000 women are waiting in line to get a license to work in a brothel.

This year is the first year that the day has been marked in Turkey. The Red Umbrella Initiative was founded last year and it was then decided to mark the day in 2009. The iniative is working towards becoming a trade union. (EZO/AG)
Source: bianet