SWAN Newsletter, Issue 26, 2009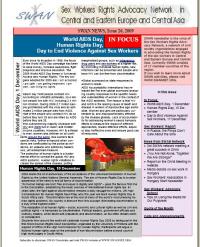 In Focus
World AIDS Day, Human Rights Day, Day to End Violence Against Sex Workers
December is the busiest month in forging a global understanding on the most pressing human rights issues. Sex workers' rights and the ones of AIDS positive people are no exception.
World AIDS Day, 1 December
Ever since its inception in 1988, the focus of the World AIDS Day campaign has been to raise money, increase awareness, fight prejudice and improve education. The 2009 World AIDS Day theme is 'Universal Access and Human Rights'. The key slogans adopted for 2009 are: I am accepted. I am safe. I am getting treatment. I am well. I am living my rights.
More
Human Rights Day, 10 December
2009 marks the 61st anniversary of the acceptance of the Universal Declaration of Human Rights by the United Nations General Assembly. The aim of Human Rights Day is to raise awareness of the need to end all forms of discrimination.
More
Day to End Violence Against Sex Workers, 17 December
The commemoration dates back to 2003, when it was first organized, originally to remember the victims of an American serial killer who singled out sex workers and teenage runaway girls and killed them. It has since become an international event, with more activists and organizations joining every year, as sex workers face similar, institutionalized abuse, violence and discrimination globally.
More

Sex Workers' Report
In Russia, the Pimps Don't Care About the Girls
Interview with Nata from Ukraine, who is involved in Lega-life, the Ukrainian National Network of Sex Workers about her experiences of working in Moscow, Russia as a migrant sex worker.
More
Network News
3rd SWAN network meeting a great success in Ohrid
The meeting brought together 32 participants from 16 countries with the aim to exchange experience, share problems and find solutions, renew and strengthen the partnership ties and get to know new network members better.
More
"You Are Not Alone, Together We Are Stronger"
The Ohrid network meeting was preceded by an activists' meeting. 18 sex worker activists turned the meeting room into an art workshop and a cafeteria to discuss issues and personal experience around sex work in their countries.
More
Report on the Ohrid Meeting in Hetérák
(translated from Hungarian)
The participants included sex workers and representatives of organizations promoting sex workers rights from 16 countries . When checking in it was already clear that we were about to have a training of relaxed atmosphere with a team of nice, intelligent and funny people. The level of the hotel service further raised our mood.
More
Media debate on sex work in Hungary
After a few years of relative silence on sex work legislation in the Hungarian media, the debate regained momentum this summer.
More
Sex Workers' Association in Hungary Start Newsletter
The newsletter is titled Hetaeras (Hetérák) after the elite mistresses in ancient Greece who alone, among all Greek women, were allowed to manage their own affairs. We translated an article on an opinion toll on sex work in Hungary.
More
Sex Workers' Advocacy School
Tips on Using the Media for Our Purposes
New approaches can be invaluable in sensitizing a hostile public or achieving a shift in the tone of the media coverage of sex workers.
More
Quote of the Month
"If you are independent, you are at the mercy of the police − they impose administrative fines on you or force you to have sex with them."
(Nata, Ukrainian sex worker)

Call and Announcements
Sex Workers Call Against Violence After Heatstroke Kills Prisoner
Sex worker's and allies are coming together in front of the Arizona Department of Corrections on December 18th in Phoenix, as part of International Day To End Violence Against Sex Workers, an annual event to call attention to violence committed against sex workers all over the globe. Marcia Powell was a prisoner of the State of Arizona who collapsed and died from heatstroke last May after being locked in an outdoor cage and ignored for four hours in 107 degree heat.
You are invited to join in Tucson, Arizona on December 17, 2009 (performance art/public installation and a candlelight vigil) and in Phoenix, Arizona on December 18, 2009 (protest rally on the steps of the Arizona Department of Corrections). Bring red umbrellas, to stand in solidarity! Signs are welcome.
New Issue of STAR Newsletter and 2010 SW Advocacy Calendar from Macedonia
STAR (human rights activist group) of Macedonia designed and launched a calendar for 2010, to mark December 17th and sex workers' rights. The calendar may be downloaded from SWAN's website here in pdf format, and quality print versions may be requested from the STAR team (write to SWAN coordinator to swan@tasz.hu).
STAR Newsletter is celebrating its 1 year of existence! Read issue 9 here. It features, among other articles, confession of a sex worker, quotes from famous people. There is a sex advice column, and information on sexual rights. Those interested can check what the Egyptian horoscope holds for them.
The 10th issue of the STAR newsletter From Us to US is dedicated to December 17 and the issues of human rights. Read Issue 10 here.
International news
The Guardian, UK
University Scientist Comes Out as Former Call Girl
For five years, it was one of Internet's best kept and most guessed secrets. The truth, unveiled by the blogger herself, is quite astonishing.
More
Spiegel.de, Denmark
Copenhagen Sex Workers Offer Free Sex to Climate Summit Participants
December 4th 2009 − The Copenhagen city council tried to use the climate summit to push their anti-sex work agenda. Local sex workers fought back with their own weapons.
More
Globo, Brasil
In Rio Sex Workers Model for New Label
August 27th 2009 – Daspu, the clothing label stemming from the local sex worker community held its first fashion show in Rio de Janeiro, featuring working girls as models.
More
Bors, Hungary
Sex Workers Baffle Police in Hungary
November 16th 2009 – Wearing only panties and bras, sex workers are on display in small, wooden shacks with large windows overlooking road 53 in Bács-Kiskun county.
More
The Times of India
Election Candidate Wants Condom as Election Symbol
October 1st 2009 – An independent candidate in the October state assembly elections in Haryana, India, gave the election commission embarrassing moments by insisting that he be allotted 'condom' as a poll symbol. His agenda was to highlight the plight of sex workers, illegal flesh trade and spread of AIDS.
More
Reuters, Germany
German prostitutes defend "flat rate" brothels
July 22nd 2009 – Prostitutes in Germany fought back against attempts by conservative politicians and irate residents to stop popular "flat-rate" brothels in July.
More
CALL FOR FEEDBACK AND CONTRIBUTIONS
The list of SWAN News subscribers is getting bigger by the day. Please let us know if you receive the News regularly (we hope we are not discarded as spam by your computer email filter?) and give us suggestions for improvement. If you have news or stories on the sex work issues that you think are interesting or relevant for the advocates and policy makers who receive the SWAN News, please send them to us. We will carefully read and seriously consider publishing them. Our email address is sexwork@tasz.hu
* * * * * * * * * * * * * * * * * * * * * * * *
ABOUT US
SWAN newsletter is the voice of the Sex Workers Rights Advocacy Network, a network of civil society organizations engaged in advocating the Human Rights of the sex workers in Central and Eastern Europe and Central Asia. More
SUBSCRIPTION
Subscription is free of charge. To subscribe or unsubscribe to SWAN News, please send a message to swan-subscription@tasz.hu with the following text in the subject line: Subscribe to SWAN NEWS or Unsubscribe.