Bulgaria: Interview with Angelina Georgieva, HESED
Legislative changes underway
A proposed law would legalize prostitution in Bulgaria. If the law goes through, women will be able to work only in delineated tolerance zones or indoors. They will be registered and subject to taxes and once they pay their contributions, will be eligible to receive medical insurance and to social benefits.
For Angelina Georgieva of HESED, SWAN member from Bulgaria, "The positive thing is that some sex workers will have the possibility to see their work recognized like any other person in the country, and will receive social and medical benefits."
However, the proposed law raises many concerns for Angelina. First among them is the desire expressed by Bulgarian parliament to implement forced regular medical examinations for sex workers as part of the law.
"Mandatory testing for HIV goes against human rights. You have the right to choose to get tested or not. It is discriminatory to impose it on a group. Why doesn't anyone go to the teachers for example and say, you have to get tested. Sex workers have just as much a right to privacy and confidentiality of results. We don't know what would happen if you tested HIV-positive. Would they be forbidden from working? We don't know."
The idea represents a sexual double standard, according to Angelina.
"Mandatory testing of sex workers sends the message that safer sex is only the responsibility of sex workers, but clients also need to take responsibility for taking care of sexual health. And beyond that, safer sex is everyone's responsibility not just those in sex work: when you go to a bar and want to have sex with someone, it is your responsibility to have safer sex."
And then there is the question of what happens to sex workers who are unable to or chose not to register, pay taxes, work only in the zones or undergo mandatory health tests.
"Sex work is not criminalized in Bulgaria now, but if the new law passes, number of sex workers will all of a sudden become illegal. Those who are unable to pay taxes, possibly because they are homeless or drug-users will have a big problem because if you are a citizen and don't pay taxes, it is a crime and the law can punish you. Those who do sex work outside of the tolerance zone will be breaking the law. This violates another human right. As a social worker I can go wherever I want to work but as a sex worker, no. This is the big dilemma about the law: It is good that sex work is recognized as work and for the men and women who are able to pay the taxes and follow the rules, their situation will get better in some ways. However, the persons not able to do it, who are often the most vulnerable to HIV, will go deeper underground to avoid being caught by the police. It will be difficult for outreach workers like us to reach them, and so it will be harder for them to get health services or to get condoms which can save their lives."
For Angelina, the current legal situation is the best from a health perspective and though not perfect, better from a human rights perspective than the proposed legislation.
"There is no law on prostitution. We have this hypocritical and vague law against getting money in immoral ways. Unfortunately, the police sometimes use that and an article about disturbing the public order to arrest the prostitutes. But technically, they can't arrest you for selling sex.
The law, as it exists now, only punishes people who are violent or force someone to sell sex. Unfortunately, that law used to be stronger than it is now. A few years ago, a famous Bulgarian rap singer was arrested for trafficking women into the sex trade. It was a big media scandal and the law was amended because of this case. Now the law says that if you have trafficked people and use drugs to make someone sell sex, then you are can be punished with 10 years or more in prison. However, if you do not use drugs to force people to sell sex, the penalty is about 2 years or just a fine. Of course, most of the prosecutors cannot prove that a trafficker was using drugs to force someone. It was an obvious case of corruption. The singer in case will be released in only a few months."
Despite all the problems that the proposed law presents, Angelina also sees optimistic signs: "I think one of the biggest victories so far, is that in the discussions among the government, health services, and policymakers about the proposed new law on sex work, a sex worker active with HESED who started her own sex work organization was invited to participate and bring her opinions on behalf of sex workers. And that is really great news. The policymakers also tried to survey sex workers about the new law with a questionnaire to find out what they think and what they would like. I think that is also a great step forward. Including sex workers' opinions in the process, inviting sex workers to their meetings and to their consultations: all this was impossible a few years ago."
Oscar for outreach workers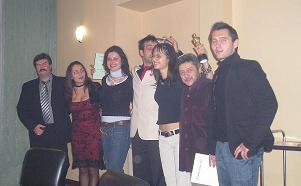 This year the Bulgarian Network of Projects Working with Sex Workers organized an Oscar ceremony for outreach projects.
"The annual meeting of our network brings together projects from eight cities. This year we decided to reward ourselves, to remind ourselves we are doing something important, something not always easy and something good. Our clients, sex workers, are stigmatized and this has an impact on us: we are social workers and we are much stigmatized for even just working with sex workers. So we wanted to remind ourselves that it is not that way and we wanted to reward ourselves. When you are an outreach worker, you need to meld into the background, to not get in the way of sex workers, keep out of the view of pimps so we decided to have a night where we could be noticed and visible and in the center of the spotlight in our attractive clothes. We had 9 categories for awards." Three cities were nominated for each Oscar and every town got one for something. There were categories for many things like an Oscar for the most new contacts, an Oscar for working in dangerous conditions because of organized crime. HESED got the Oscar for the biggest number of contacts made."
Sex workers' organization soon to be registered
"We have really good news. There is a sex worker who has been working with HESED for four years. She is a really interesting and impressive person. For many years she had this idea to officially create a sex workers' human and health rights organization. And this year, to all of our great satisfaction, she accomplished her idea with our support. She has started to work on registering the group formally and on developing services. We are trying to help her with this."