SWAN News, Issue 15, Year 2, December 2007

DECEMBER 17 CAMPAIGN: RIGHTS, NOT VIOLENCE!
SWAN Campaign to End Violence against Sex Workers
December 17, 2007 -– Hundreds of activists from Budapest to Barnaul in Siberia and from Poland to Albania took part in the SWAN's December 2007 campaign to stop violence against sex workers.
The campaign this year pointed to the connection between public heath, human rights and violence against sex workers by linking three dates: December 1, International AIDS Day, December 10, Human Rights Day, and December 17, International day to End Violence against Sex Workers.

Rights, not Violence! campaign in brief
December 17, 2007 – SWAN campaign Rights, not Violence! Was launched on December 1, International AIDS Day, by a press release and collection of signatures on a petition calling governments to protect human rights of sex workers. More


Rights, Not Violence! Campaign in facts and figures
December 17, 2007 -- Which country saw the first-ever appearance of a sex worker on TV and a discussion on human rights, violence, and decriminalization? Where was a ground-breaking article published describing social problems, violence, poverty, discrimination against sex workers? Where did sex workers get to the streets with red umbrellas? Find answers to these questions and much more about the Rights, Not Violence! campaign here.


SWAN movies about human rights of sex workers
December 17, 2007 -- Announcing its Video Advocacy Initiative, SWAN today released a series of short movies in which SWAN members talk about human rights of sex workers. The movies, shot on an amateur digital camera and uploaded on YouTube, are easy to include in your website or blog. The movies are available here. SWAN has already written about the use of video and YouTube in advocacy.

SWAN e-card campaign
December 2007 -- Sex workers and allies from around the SWAN region have designed a number of electronic postcards for the December 17 campaign. The cards were sent out to allies, friends, colleagues, as well as governments and donor agencies. View and download in various languages here.

Rights, Not Violence! media materials
International press releases, available here, were issued by the SWAN office in HCLU in Budapest. In addition to them, each participating country released at least one press release in their native language and with local specifics.
SWAN December 17 Press Release
SWAN December 10 Press Release
Campaign highlights: Our Voices, Our Rights in Kyrgyzstan
Bishkek, December 17, 2007 -- Our Voices, Our Rights is the title of the newsletter produced by sex workers from Kyrgyzstan, in a drop-in center run by Tais Plus, SWAN member from Kyrgyzstan and the organizer of Rights, not Violence in this Central Asian country. More
2008 Conference Diary
19th International Harm Reduction Conference (Barcelona, 2008), 2nd EECAAC HIV/AIDS Conference on Eastern Europe and Central Asia (Moscow, 2008), and 17th International AIDS Conference (Mexico City 2008) – deadlines are rapidly approaching for abstract submission and session proposals. More

Campaign highlights: parties in Prague, Skopje and Warsaw
December 21, 2007 – Several SWAN members organized this week parties as part of the Rights, not Violence campaign to stop violence against sex workers. More

Campaign Highlights: Red umbrellas in front of Macedonian Parliament
SKOPJE, December 17, 2007 - The city of Skopje, capital of Macedonia, woke up this morning to see hundreds of posters calling for "Rights, not violence" for sex workers. And this was just a beginning of a day which will be remembered by many unusual things… More
Campaign Highlights: International AIDS Conference in Poland
Warsaw, December 1, 2007 -- People Living with HIV/AIDS in family and society was the title of the International AIDS conference organized in Warsaw today. The President of TADA, SWAN member from Poland, presented the Declaration of Rights of Sex Workers at this conference sponsored by the Polish Government and UNAIDS. More
Campaign Highlights: Psychodrama and role plays at University of Warsaw
Warsaw, December 17, 2007 – 78 students of the Warsaw University took part in a competition which had its finale today. Some played roles of sex work advocates using content related arguments; some were sex workers; others were sex workers' enemies using arguments based on emotions and morality. This psychodrama was the end of a project run by Justyna Sobeyko who teaches at the Warsaw University and is also an activist with TADA, SWAN member from Poland. More
Campaign in pictures
Until December 21, when this issue of SWAN News was closed, we have received photos from Bulgaria, Macedonia, Kyrgyzstan, Kazakhstan, and Russia. They can be seen here. We will publish the new materials as we get them in January.
CALL FOR ACTION:
Sign SWAN petition to end violence against sex workers
"In support of all those who have experienced violence we the undersigned demand that violence against sex workers must be recognized and sanctioned as a crime. We demand that all sex workers, like anyone else, be equally protected by the state"
December 2007 -- Over 3,500 citizens have signed this petition, translated into 10 languages, online or on the streets and squares in 14 European and Central Asian countries. There is an English version that you can sign here.
History of December 17
What is the story behind December 17? Here is a short story about this international day, taken from the website of SWOP USA. More

The Red Umbrella: What does it symbolize and why is it used by sex workers?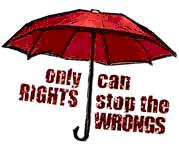 Many SWAN members participating in the December 2007 Campaign for human rights of sex workers used red umbrella as their symbol. What does red umbrella mean? Here is an article about its symbolism and history, already published in SWAN News last year. More


SEX WORKERS' RIGHTS ADVOCACY SCHOOL
In this column, SWAN News publishes articles that can help sex workers' rights advocates in their daily work: how to challenge the myths surrounding sex work, how to fight abolitionists, how to work with media, communicate, create an effective message and get it across.

Mobile phones and social activism
Why cell phones may be the most important technical innovation of the decade
In today's Sex Workers Rights Advocacy School we will talk about mobile phones and their use in advocacy. We are reprinting an article that originally appeared on Ethan Zuckerman's blog My Heart's in Acra, and was later republished on Mobileactive.org.
If you ask a U.S.-based activist the most important technical development of the past five years, they'll likely tell you about the rise of citizen media, the use of blogs and Web community sites to disseminate information, organize events, and raise money. Because blogs were such a visible manifestation of political discourse, they've been extensively studied and reported on, which leads to a sense of the importance of these media for the campaign's impact. More

PUBLICATIONS
Sex Worker Health and Rights Advocates' Use of Information and Communications Technologies Report
Published July 17, 2007, by Tactical Tech
This report explores the ways in which sex worker health and rights advocacy groups currently use information and communications technology, and how they could benefit from technology and training in the future. The needs assessment was carried out via survey and also through interviews conducted at the OSI Sexual Health and Rights Project's April 2007 "Advancing Global Advocacy on Sex Workers' Health and Human Rights" meeting in Cambodia. More

Sexual Health and Rights News
The Open Society Institute Sexual Health and Rights Project (SHARP) publishes a quarterly newsletter to keep sexual health and rights stakeholders informed and updated on activities, projects, news, and events related to SHARP and the broader sexual health and rights community. Subscribe here.

EVENTS
OSI Forum: Update on the "Anti-Prostitution Pledge" and Its Global Impacts
The Open Society Institute Sexual Health and Rights Project (SHARP) hosted in June this year in New York an update on the "anti-prostitution pledge" and its global impacts. The U.S. government has recently sought to require that anti-AIDS groups sign a pledge opposing prostitution. Failure to endorse this oath means health workers across the world could lose funding and be forced to abandon life-saving programs. More

Download a compilation of "anti-prostitution pledge" background materials.
Listen to the forum in streaming mp3 audio format. Duration: 1 hour, 11 minutes.

CONFERENCES
2008 Conference Diary
19th International Harm Reduction Conference (Barcelona, 2008), 2nd EECAAC HIV/AIDS Conference on Eastern Europe and Central Asia (Moscow, 2008), and 17th International AIDS Conference (Mexico City 2008) – deadlines are rapidly approaching for abstract submission and session proposals. More


CALL FOR FEEDBACK AND CONTRIBUTIONS
Dear readers,
The list of SWAN News subscribers is getting bigger by the day. Please let us know if you receive the News regularly (we hope we are not discarded as spam by your computer email filter?) and give us suggestions for improvement. If you have news or stories on the sex work issues that you think are interesting and/or relevant for the advocates and policy makers who receive the SWAN News, please send them to us. We will carefully read and seriously consider publishing them. Our email address is sexwork@tasz.hu

Thank you.
The Editor

* * * * * * * * * * * * * * * * * * * * * * * *
About us
SWAN newsletter is the voice of the Sex Workers' Rights Advocacy Network, a network of civil society organizations engaged in advocating the Human Rights of the sex workers in Central and Eastern Europe and Central Asia. More

Subscription:
Subscription is free of charge. To subscribe or unsubscribe to SWAN News, please send a message to swan-subscription@tasz.hu with the following text in the subject line:
"Subscribe SWAN News" – to subscribe
"Unsubscribe SWAN News" – to unsubscribe