Indian sex workers get a lesson in karate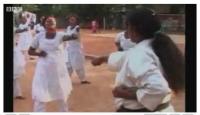 The women say they were so fed up with abuse that they approached a local community group for help.

The organisers hope the course in the ancient self-defence technique sends a message that violence against sex workers must stop.

India is thought to have nearly three million sex workers.
Most live on the fringes of society and have few legal rights.
Correspondents say that means they often have little or no choice but to put up with violence and harassment.

'I will kick him'
Dressed in white and wearing masks, the first 75 women to take the karate course in the coastal city of Madras (Chennai) had to brave intense heat as they practised their moves.

They trained together for nearly five hours a day, mostly learning how to fight. Now the women say they feel more able to protect themselves.

"Even though I may not be able to attack a group of five men when they attack me, I am fully confident now that I can escape," one sex worker, Santhi (not her real name), told the BBC Tamil service.

"I think I can easily handle one man at any given time. I face physical abuse on a daily basis and have been abused and been beaten up by my clients many times.

"A thug once stripped me of my clothes and told me to run naked. From now on, I think nobody can do that to me. I will kick him."

The Indian Community Welfare Organisation is providing the training free of charge. Its founder secretary, AJ Hariharan, said Tamil Nadu state alone was thought to have about 90,000 commercial sex workers.

"Many of them, particularly those who operate individually on the streets face physical abuse on a daily basis - not only from their customers, but also from local thugs and policemen," he told the BBC Tamil service.

"They attack these commercial sex workers, rob their money and force them into having unprotected sex. We want to train them in karate so that they can protect themselves from these violent attacks."

Mr Hariharan said the aim was to build the self esteem and self confidence of the women.
"We are going to train 300 sex workers in the second phase and 500 sex workers after that.

"We are trying to send a loud and clear message to those who abuse these sex workers that they cannot abuse them any more.
Source: BBC News