Sex Worker Media Library opens in San Francisco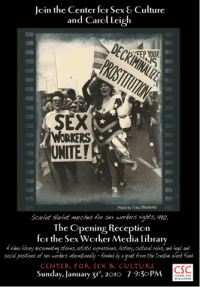 Project director Carol Leigh explains, "This resource is designed to assist researchers, scholars and activists (including sex workers) in their efforts to understand and support sex workers rights and culture. This resource is sorely needed as we survive in a world of stigma, discrimination and criminalization.
The opening took place on 31 January 2010 at CSC. The Sex Worker Media Library was created by activist and artist Carol Leigh (AKA Scarlot Harlot).