Macedonia: Impromptu Sex Worker Action In Skopje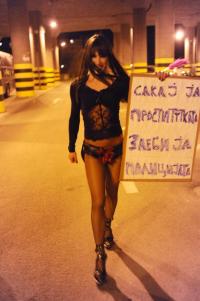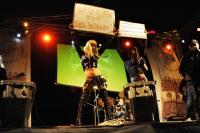 Every April 1st, there is a large show in the city center of Skopje, Macedonia. Everyone comes out to celebrate together and attend the festivities. According to Laura: "On this day many citizens are there and so are many television crews. We decided to use the opportunity. We dressed up as girls. We came up with two slogans on signs. My slogan was "Bad law not bad whore" and Tina's was "Love the prostitute, fuck the police!"
Together, Laura and Tina paraded through the center of town and shouted slogans. They managed to slip through security at the concert.
Up close, with the musicians, they asked to go on stage with them as dancers and the group agreed.
"When we went on stage, we raised up our signs, so the general public and the reporters could clearly read them. There was a huge response from the citizens and all reactions were positive. It was great."

STAR, star.contact@yahoo.com