By ekaterina on Apr 14th, 2016
The French Parliament passed a bill on the 6th of April, 2016 which makes it illegal to pay for sex in France. Selling sex remains legal. The bill passed 64 to 12 in the National Assembly, France's lower house, with 501 deputies abstaining from the vote.
Under the new law those who pay for sex will face fines of up to 1,500 Euros for the first offence, and up to 3,750 Euros for subsequent offences. They may also be required to attend a stigmatising course to raise awareness of the harms of 'prostitution'. The law on "public solicitation" has been abolished.
By ekaterina on Jul 16th, 2015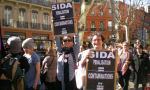 Mary is telling about how did she become sex-workers rights activist, about the situation with sex-work in France, about the Toulouse branch of STRASS
By ekaterina on Jun 9th, 2015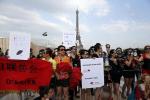 "Clients are criminalized, prostitutes are murdered", "Sex work is work": dozens of prostitutes, men and women, gathered on Friday night in Paris near the Eiffel Tower to defend their rights and oppose the criminalization of their customers.