By ekaterina on May 22nd, 2015
Turkish advocates have been calling for recognition of a spate of violence against trans women in the country. Over the space of two weeks, seven trans women were violently attacked in different cities around Turkey.
By maria on May 6th, 2015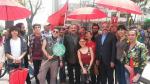 Sex workers, sex workers' rights activists, groups and allies celebrated May 1 with various actions. SWAN members also joined the celebration, you can read more about actions that took place in Turkey, BiH, Bulgaria and Macedonia on May 1, 2015 below.