CEDAW and Rights of Women Sex Workers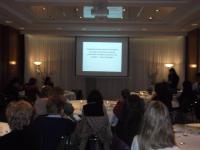 The meeting was organized with goal to open discussion on the rights of woman sex workers within CEDAW framework, and specifically provide opportunities to identify, mitigate and address the main concerns within the CEDAW Committee regarding sex work and approaches towards rights of women sex workers, build understanding and consensus on the grave and systematic nature of the violations against women sex workers and support the upcoming  submissions/reports from sex workers and allies groups demanding elimination of all forms of discrimination against sex workers.
First part of the meeting was round of presentations on the most common and severe human rights violations against sex workers in the region of CEECA and (lack of) responses from institutions and state. SWAN gave the broader regional perspective, with focus on police violence, after which representatives of Tais Plus, HOPS and Silver Rose provided country case studies explaining the details of human rights violations and impact of sex workers life, work and health. The round of presentations finished with IWRAW presenting on positive examples of international standards and mechanisms used to promote the rights and health of sex workers, with the goal to show the changing and progressing both language and approaches towards sex work.
Second part of the meeting was discussion, based on the questions of Committee members in regards to different legal approaches towards sex work, specifically "Swedish model", advocacy goals of the sex workers movement, visibility of sex workers on platforms like CEDAW, etc. The discussion was fruitful, and collaborative, end ended with common understanding that Committee members and sex workers activists should continue discussions, and open the space for sex works voices so the Committee can understand better the realties and demands from sex workers groups