EECA Regional Online Dialogue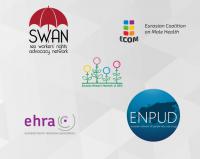 The regional program will be designed to strengthen efforts to improve the effectiveness of planning and monitoring system of programs, to reduce the prices of drugs for HIV, TB and hepatitis treatment and prevention, and strengthen community systems for key populations and people living with HIV.
The scope of the program of the Regional Communities Networks Consortium can include any of the EECA countries, except for the Balkan countries, that meet the Global Fund's eligibility criteria and requirements for multi-country grants.
The Regional Dialogue is held from January 30 to February 20 in the form of an online survey, to which all interested organizations, groups and individuals are invited. You can preview the online survey form by link.
Please do not use this form to send your answears and comments, please fill out an online survey. Please note that the survey contains questions that require response, and questions where answer is not necessary.