Make-or-break year in HIV prevention in Bulgaria: The "Goodwill" campaign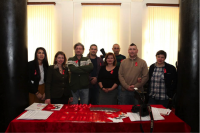 The Bulgarian parliament received a group of AIDS activists on the 13th of February 2015. The group was there to inform MPs about the imminent risk of Bulgaria completely losing its HIV prevention services after the end of this year. The country, which has since 2004 been a recipient of funding from the Global Fund to Fight AIDS, TB and Malaria, is no longer eligible for such assistance, and 2015 is therefore the last year in which the cost of HIV prevention services in the country will be fully covered by the Global Fund. So far, the government of Bulgaria has not ensured funding mechanisms for maintaining the services after the withdrawal of the international donor in 2016. There is a real threat of the cessation of all the programs currently working among vulnerable communities, and providing them with essential services such as needle exchange, condom distribution, and HIV testing.
The activists who visited Parliament represented 34 NGOs working in the area of HIV prevention and psychosocial care for affected people. In November 2014, the NGOs prepared a Manifesto (read below) warning about the danger of HIV spreading in the country, and demanding urgent adequate measures from the government. The Manifesto was presented to members of parliament during the NGOs' action in Sofia.
Hard work on the part of the NGOs, with support from the Global Fund, have helped keep Bulgaria a low-prevalence country in HIV terms, by Eastern European standards. The geographical location of the country, however, (between Greece and Romania), as well as its socio-economic situation, create preconditions for an HIV epidemic outbreak. Now is the moment for the Bulgarian government to take steps against this possibility.
During the Parliament campaign, 50 deputies from all parliamentary parties (except the ultra-right wing "Ataka") declared their support for the Manifesto, with particularly strong support from members of the largest party, GERB. Supporters affirmed that HIV prevention is a high priority for the country, and that they are ready to take action to prevent the spread of the infection. Several MPs declared an interest in creating an informal parliamentary group to lobby for an adequate response to HIV.
Though many of the deputies were well informed about the significance and effectiveness of the National HIV prevention program, it was worrying that many of them were unaware that financing from the Global Fund was soon due to end - confirmation that the wider public have not been made aware of the problem in recent years. The hope of the 34 NGOs signing the manifesto is that after this campaign, the issue will achieve greater visibility, and politicians will make a commitment to ensure funding for all activities of the National Program for Prevention and Control of HIV/AIDS.
By Yulia Georgieva/Initiative for Health Foundation. Source of the article and the pucture: Drug Reporter