May Day – Labor Rights for Sex Workers!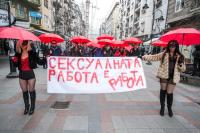 For sex workers globally it is a day when they join other workers' in demanding respect for labor, social and human rights.
SWAN joins the global celebration of May Day and sex workers' struggle to work free of stigma, discrimination and violence. SWAN demands recognition of sex work as work, safe working conditions for all sex workers, and removal of punitive laws which criminalize and endanger sex workers!
Freedom, equality, justice and solidarity to sex workers! Together we are stronger!