OSF published the report with the participation of SWAN members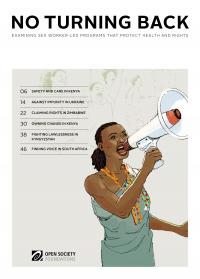 Ukraine
A sex worker Yulia was one of the first who took a public stance against police abuse in August 2008, that ended-up costing her life. It started with her refusal to pay bribes to the police, followed by the police, according to her own report later in that day in a bar, raping her, and hours later she has jumped from a bridge ending her own life. The police investigation concluded that she committed suicide, however the local community believes that she was driven to suicide by the police.  
Sadly, this was not an isolated incident. Police abuse is widespread, despite the reform efforts, mainly because sex-workers are perceived to be "easy targets with no protection". Legalife-Ukraine believed that the laws on sex work fuel police abuse. According to the Ukrainian code of Administrative Offenses, prostitution is punishable by $3 to $10 per event, however a street worker will make between $2 to $6 per client. Many sex workers make weekly extortion payments to avoid conflicts.
In order to avoid unjust handling of cases, in October 2011 the All-Ukrainian League Legalife sent a letter to the police chief of Kirovograd Oblast informing that they will begin monitoring and recording officers as they perform their duties. They trained and encouraged sex workers to capture their life-experiences with the police, which itself led to better conduct by the police. Between January and September 2013, 33 violations were documented in addition to videos captured. The documentation and evidence collection of police activities remain critical and, it also allows on-the-spot training of officers who incorrectly execute their duties.
Legalife-Ukraine continues to provide legal support to those sex-workers in need and also continues focusing on shifting public perception. With the years of experience Legalife has, it learned to talk about sex work in a way that more people can relate to and understand. They say, helping people to see sex workers as individuals with diverse experiences, and linking their experiences to common struggles, promotes acceptance.
Kyrgyzstan
The dissolution of the Soviet Union has brought unprecedented challenges to the state of Kyrgyzstan, people lost their jobs and means of survival that led to a large increase of sex-workers in the country, where the legal system is not prepared and equipped to deal with the changing landscape.
Sex workers stated that they are being approached by police in civil clothes, without identification even posing as clients from time to time. Every sex worker surveyed in 2012 had been subject to humiliation, verbal abuse, extortion and more than 90 percent confirmed that they make regular payments to the police to avoid arrest and abuse. Those who don't pay this "defense money" are subject to various forms of punishments, some are under the administrative offenses or simply acts of illegal nature (beaten by batons, from physical threat and abuse to being raped by the police). Furthermore, sex-workers are afraid to report these abuses as they feel that "Today I file a complaint, tomorrow they will find me in the dumpster".
Police is the main concern, but also employers and clients are often demonstrating abusive behaviors. The HIV rate among adult population is one of the fastest growing in the world (2014). Health services were difficult to come-by, such as HIV testing in the past, however through efforts there is substantial improvement of the availability of those services today. Outreach programs have been created to distribute condoms and help STI testing as well as to provide a safe place where they can engage with the various programs available.
Several organizations that support sex-workers are cooperating with legal professionals to resolve injustice and abuse. While they often fall short of justice, having said that efforts of holding perpetrators accountable show positive impact.
Various collaboration programs by civil society groups have been initiated to work with the police to seek accountability for misconduct. In 2003, local NGOs and international organizations have influenced the Ministry of Interior to issue an order instructing the police to not interfere with HIV services, which in turn helped with the police education even with courses at the police academy. Kyrgyz groups have joined forces to shape sex work related policies and programs. The coordinated efforts have stopped the attempt to re-criminalize sex work or to avoid penalties targeting sex workers.
As to the future, increasing number of sex workers know their rights, and are taking steps to address abuse. Police is learning that they may be held accountable for abusive actions, and some people in the police force have emerged who take sex workers rights seriously. There are examples now where the police have supported sex workers in dealing with abusive situations and helped them. Also the sex worker community is less worried about calling for the police's help when needed.
The report concludes, that criminalization makes sex-work to be less safe,  hampers the access to preventive and other health services and increases the risk of violence. It enables and encourages law enforcement to use unethical approaches and drives discrimination. It interferes with outreach and health support services. In several instances this meant that police destroyed sex workers condoms that were obtained through various support programs.
Read the report in english here.