Publications about the violations of sex workers' rights in Turkey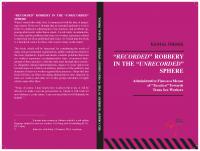 "THOSE WOMEN: VIOLENCE STORIES FROM SEX WORKER TRANS WOMEN- interview/compilation by KEMAL ÖRDEK".
The survey of 522 pages on experiences of violence was conducted with 233 sex worker trans women from 10 provinces in Turkey, in addition to interviews with a total of 18 sex worker trans women from various provinces. The publication is essentially a documentation of the interviews that took place, with questions and detailed interview answers, categorized into key themes, such as PEACE, REBELLION, HOPE, HAPPINESS, FREEDOM, LONGING, COLOUR, WAIL, EQUALITY, HEAVEN, RAINBOW, LOVE, LIFE, COMPASSION, JUSTICE, SOLIDARITY, and DREAM. The content of the interviews show the realities that sex worker trans women face in Turkey.
"SEXUAL AND REPRODUCTIVE HEALTH OF SEX WORKERS IN TURKEY: Needs and recommendations commissioned by the Red Umbrella foundation".
The content has been primarily designed to identify the benefits of health services and to address advantages of a health seeking behavior. Based on the results of the research, the main goal is to assess the health of a sex workers and to develop tools to increase their access to health care services and create uniform recommendations. For this purpose, along with the sex workers, local and central health authorities that are performing these services, such as academics and nongovernmental organizations, have participated and provided their valuable contribution and support. The bases of this study were sex worker interviews from 7 provinces of Turkey between Sept. and Nov. of 2014. 40 out of 55 sex workers were interviewed in person in private and safe environments. The findings of the research are partly demographic and statistical, but it also collected detailed information on the level of awareness about sexual and reproductive health and prevention for  the sex worker and transgender community. The study closed with identifying issue areas, experiences and needs, the negative impacts of legislation, drug use and its implications, living conditions, lack of health policies and makes a point by point recommendation on how to improve conditions and practices that impact sex workers in Turkey.
"VIOLENCE DIRECTED TOWARDS SEX WORKER TRANS WOMEN IN TURKEY – A STRUGGLE FOR EXISTENCE CAUGHT BETWEEN THE CROSSFIRE AND IMPUNITY" by KEMAL ÖRDEK.
It is dedicated to all sex worker trans women who has been victims of violence and who has been murdered. This study is portraying the violence directed toward sex worker trans women, but narrows in on the apparent differences between how the whole society is targeted and specifically how sex worker trans women are impacted. Throughout this publication there is an examination of the types of violence and socioeconomic conditions of victims, factors that lead to violence and by whom, the role of the government and the need and demands of the stigmatized minority group of transgender women. The study is closing by listing the demands of sex worker trans women in order to eliminate all types of violence directed against them.
"RECORDED" ROBBERY IN THE "UNRECORDED" SPHERE" by KEMAL ÖRDEK.
This book is a study about administrative fines and issues that transgender sex workers experience. The intent of the writer (Kemal) is to have a positive effect on ending administrative fines and to avoid the abuse of rights of the transgender and other sex worker groups. 20 transgender sex workers were interviewed in 7 cities inside Turkey. Kemal outlines his personal experiences; he has seen a lot, and he describes what he witnessed, from the police disturbing transgender sex workers without reason to the police invading their homes or insulting, arresting for simply standing by or walking their pets. When these people have resisted, they have been subject to unjust violence. Administrative fines were imposed at many occasions by the police without cause. The document highlights the current governing legislation as well as the practices by the police. It is a highly-detailed document about these topics and more specifically about the lay of the land in Turkey.
"RESTRICTED JUSTICE": report on legal support to trans women sex workers suffering from rights violations" by KEMAL ÖRDEK.
The study is outlining the role and focus of the Red Umbrella as well as historical activities in the domain of transgender sex work since 2013, emphasizing their activities on reducing and eliminating stigmatization, marginalization, discrimination, hate speech, hate crimes, violence and murder, and all other violations of rights committed against all sex workers, as well as main problems within the framework of economic justice and fundamental human rights. Furthermore, it provides specific suggestions to various interest groups to end violence that sex workers are subject to in their daily lives. The recommendations are actionable and detailed for law- and decision-makers, civil society organizations, donors, media, and for lawyers.