Regional Сommunity Networks Consortium submitted multi-country proposal for GF funding to insure sustainability of HIV services for key populations in EECA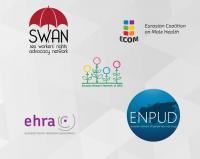 The goal of the proposed project is to ensure the sustainability and accessibility of high-quality, evidence-based, non-discriminatory and gender-oriented HIV services for key populations in EECA through joint community efforts. Project aiming to straighten Community responses and systems and Programs to reduce human rights-related barriers to HIV services.
The objectives under this goal are to:
Strengthen community capacity to advocate for increased domestic financing of evidence-based and human rights-oriented HIV services for key populations.
Strengthen the meaningful participation of communities in monitoring and advocating for access to HIV treatment.
Increase community capacity in community-led monitoring and overcoming human rights-related barriers to HIV services among key populations.
The project goal, objective and activities were defined on a basis of extensive regional consultation engaging 167 experts and activists representing interests of the key communities in most of EECA countries.
This multi-country project will be active in five EECA countries which will be selected within a competitive process based on the proposals from countries. This multi-country project will engage and network up to 20 sub-grantees and five key populations. The proposed interventions were specifically designed to maximize the benefit of regional-level work by leveraging the cost-efficiency of developing tools and guidance at the regional level; by creating intentional opportunities for learning and experience exchange between participating countries and community groups on national level.
In order to build on various expertise and increase the project effectiveness, RCNC is also strengthening cooperation with other regional players who are invited to be associated partners in the project: AFEW International, Medicines Patent Pool, Canadian HIV/AIDS Legal Network, European AIDS Treatment Group, Palladium group, and United Nations Population Fund EECA Regional Office. Further development of the proposal and implementation will be coordinated with other regional proposals – South East Europe Regional Coordination Mechanism in sustainability of HIV services and the multicountry EECA proposal for TB response lead by PAS, Moldova
The proposed activities will create well-coordinated networks of various community leaders and groups at national and locl levels, who will gain practical advocacy skills for funding services and monitoring government budget allocations, and who will regularly monitor the quality of services available to key populations. This will allow to increase and sustain effective governmental and donors investments to innovative and evidence based HIV services for key populations and other in need.
The Consortium has been formed by five key population community networks in December 2017 and includes: Eurasian Harm Reduction Association (EHRA), Eurasian Coalition on Male Health (ECOM), Eurasian Network of People Using Drugs (ENPUD), Eurasian Women's Network on AIDS (EWNA), and Sex Workers' Rights Advocacy Network (SWAN). These regional networks came together to work on joint advocacy to increase the sustainability and efficiency of prevention and testing services, and improve access to HIV treatment for people who use drugs, men who have sex with men (MSM),trans people, sex workers and women affected by the HIV epidemic in Eastern Europe and Central Europe Asia (EECA).
For more information please contact Stasa Plecas at stasa.plecas@swannet.org or any of RCNC member.