Silver Rose defending labour rights of sex workers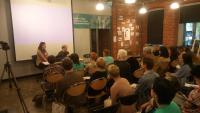 Speakers and participants represented 30 different organizations, most of all NGOs. Presentations and discussions at this year highlighted the problems experienced by vulnerable social groups such as women, migrants, refugees, LGBT people, people living with HIV, drug users, homeless, low-mobility citizens, sex workers and others.
Darina Ivanchenko, an active volunteer from Silver Rose, appeared as a speaker. Organizers reacted harshly to the participation of sex worker's representatives at the conference, however through Darina's vivid, emotional and legally sound performance, she provoked strong interest and many questions from participants and representatives of NGOs.
After the presentations, Silver Rose' representatives were consulted and given recommendations on fundraising issues. The agenda was very rich and interesting, with strong presence from organizations. Experiences of representatives of vulnerable people were shared among private and public companies, trade unions, various NGOs and initiative groups.
One of the most intense part was the work done among NGO representatives. Ten reports have covered almost all aspects of these vulnerable groups. And while the protection of the labor rights of vulnerable groups was already discussed, the scope and participation widened and the exchange of experiences have yielded to important results.
Geographies involvement was equally impressive. Despite the modest resources, Silver Rose was able to attract participants not only from Moscow and St. Petersburg, but also from Krasnoyarsk, Samara, Ivanovo, Makhachkala, Kaliningrad, Voronezh and Tomsk.
As planned, the results achieved at the conference will be published in a report.