STAR-STAR published the research on voluntary sex work in Skopje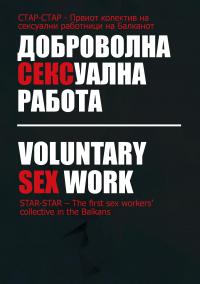 STAR-STAR, as a civil association that actively involves persons from the sex industry since its inception, has an objective to promote sex work which is most commonly a free choice and has absolutely no connections whatsoever with issues regarding human trafficking.
Based on the continuous assessment of the realistic situation in the Republic of Macedonia in terms of general population's perception of sex work and sex workers in general, STAR-STAR have come to a conclusion that it is necessary to conduct a research in the city of Skopje, where most sex workers actually operate, in order to collect data and analyze sex workers' attitudes towards voluntary sex work and the legalization of sex work.
Among reasons that triggered this research include the continual "dedication" of government institutions to human right of human trafficking victims, but on the other hand ignoring and violating sex workers' rights on a daily basis by the police, institutions and the media.
The study showed that besides the great percentage of those who have health insurance, i.e. 84%, there are still sex workers who either don't have it or are unable to legally regulate it, i.e. 16%. Only 27% of the interviewees are social welfare users, the rest, i.e. 73%, besides the unemployment status do not use or have no access to this right.
The vast majority of the interviewees, i.e. 67% do believe that the legalization or depenalization of sex work would contribute to major improvements in terms of their healthcare insurance, peace, non-violence and the workplace.
The perception of the need to change the legal framework that targets sex workers is significantly expanded. One part of sex workers openly accept the legalization of sex work, however, a great part of them believe that the legal framework should be changed, but not legalization of sex work. All of this suggests that the change of legislature is necessary in a framework adequate for the needs of sex workers and sex work in general, as well as improvement of knowledge and responsibilities of the sex workers' community by the framework that would be proposed.
Read the report here (in macedonian and english).