SWAN and members mark the 17 December with a series of public events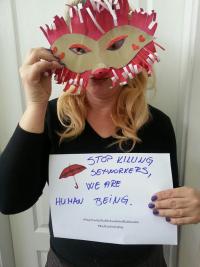 HOPS and STAR from Macedonia organized several events for the day. HOPS has previously announced a call for best media article from journalists on the issue of sex work. On 17th of December the best 3 awarded journalists/articles were announced and published on media. HOPS also launched a video speaking about Merseyside model and Ugly Mugs scheme on addressing violence against sex workers (https://www.youtube.com/watch?v=Oxc-QHupUOA&feature=youtu.be ). STAR has organized a traditional red umbrella street march, hich was greatly covered great by national media. The 2 organizations jointly gave statement in media and called for end of violence against sex workers, and organized a community event after the march.
Association PROI of Bosnia issued a press release for media and organized a five-day Facebook campaign named «Red Umbrella». As part of the campaign sex worker activists have created 15 creative anti-violence messages, which were promoted on the social media. On each day of the campaign three sex workers were photographed with three messages such as: "Every human has rights!", also calling general population to join. The campaign united 15 sex workers from Sarajevo and more than 20 non-sex workers, who showed their support for sex workers' rights. The campaign was actively covered by national media, who have produced TV and radio items, as well as several web articles. Check the photos of the campaign on their Fb page: https://www.facebook.com/udruzenjePROI
In Slovakia, Odyseus - a services organization - celebrated the International Day to End Violence against Sex Workers with the sex workers community by first outreaching in the «field» and then gathering the community for coffee and snacks at the informal meeting sex workers. At the meeting outreach workers from Odyseus talked about the history and meaning of the Day of 17th of December, discussed the situation of sex workers in Slovakia, and learned about Odyseus's new project «End of Violence, Time for Rights». Sex workers also received gifts including warm clothes, gloves, hygiene packages, condoms, femidoms and lubricants. For public, Odyseys published press release and a video combining photo campaign released on social media (https://www.youtube.com/watch?v=8dAwn5A5_Mw ). For more, visit their fb page: https://www.facebook.com/OZ.Odyseus
«Lega-Life» of Ukraine have organized a photo flashmob in support of sex workers' rights and against violence, stigma and discrimination. The campaign was supported by sex workers, activists and partners from several Ukrainian organizations (representing Rovno, Vinnitsa, Kiev and Kirovograd), as well as activists from Russia and Israel. The photo flashmob called for respect towards sex workers and their choice, to recognize the agency of sex workers in making own decisions, and to stop violence against sex workers. See photo gallery at: https://www.facebook.com/League.LegaLife
In Georgia «Women for Freedom», a self-organization of sex workers, drug users and former women-prisonrs, organized a public action in support of the Day - for the first time in Georgian history. The action gathered a dozen of activists, who came to the public spot with their banners calling to stop violence, stigma and discrimination of sex workers in Georgia. The event was well covered by media, which interviewed main organizers of the protest about the history of the Day and its meaning for Georgian sex workers.
In Ankara, Turkey, Red Umbrella Association organized a conference on the rights of transgender sex workers. See more at: https://www.facebook.com/KirmiziSemsiyeCinselSaglikVeInsanHaklariDernegi
In Romania, "Maria Magdalena" Association as an informal group of sex workers prepared a letter which should have been sent to all police stations in Bucharest, along with 15 condoms. The representatives of this future association have received support from 6 NGOs working in health and social protection domains (ARAS, Carusel, Parada, Romanian Angel Appeal, RHRN, SECS). However the letter was not sent, since the group of sex workers feared possible repercussions.
ARAS and Carusel consider that, as it is unsigned, unsent and written by the members of an association that hasn't yet been able to legally register, the letter itself transmits: "Stop the violence against sex workers!"
In Serbia, sex workers led group "Equal rights", performed a flash mob with red umbrellas after which they marched through the central pedestrian zone, symbolically sharing packets of condoms and leaflets to passersby's, and headed to the European Centre for Culture and Debate "KC Grad". This is the first public walk of this kind held in Serbia. At "KC Grad" sex workers and sex worker activists discussed the everyday issues faced by the sex worker community with numerous representatives of civil society who support the fight against human rights violations and discrimination against vulnerable groups.
For more information and photo galleries of public events across Europe and Central Asia please visit: https://www.facebook.com/events/763032650412432/.
On regional level, SWAN has released joint statement with ICRSE and a new publication – Stronger Together: Addressing Violence Against Female, Male and Transgender Sex Workers in Central Eastern Europe and Central Asia. The booklet is aimed at sex workers, sex worker groups, organizations working with sex workers, women's groups, drug users' groups, LGBT groups, human rights organizations and other friends who want to know more about efforts to prevent and respond to violence against sex workers. In the booklet SWAN is sharing experiences in the hope that it proves as helpful as learning from others' experiences was to us. We also hope that it allows more people to know about the work that SWAN, sex workers and allies are doing to end human rights abuses against sex workers. You can find statement and publication in russian and english at SWAN web site: www.swannet.org