SWAN Members Commemorate World AIDS Day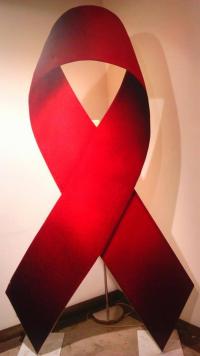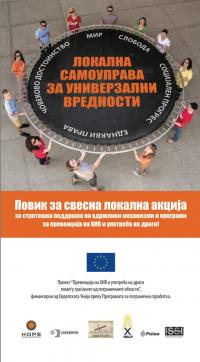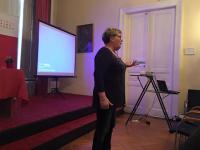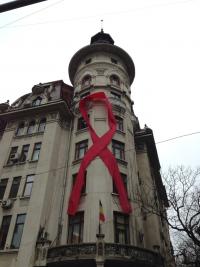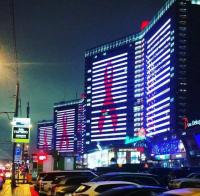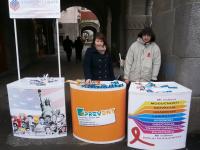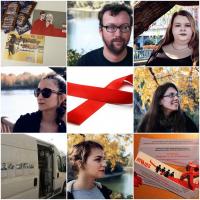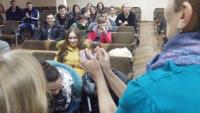 MACEDONIA
STAR-STAR organized:
Group Community workshop on HIV and STI with  female sex workers;
Group Community workshop on HIV and STI with male and transgender sex workers;
Mobile HIV testing.
STAR-STAR also supported supported and participated in the auction's event organized by 'Stronger Together' – community group of people living with HIV.
"HOPS" together with its local partners "HELP" - Gostivar, "TSRUJZH" - Tetovo, "Pulse" - Kumanovo, launched the campaign "Local Government for universal values - Call for conscious local action to strategically support sustainable mechanisms and programs for prevention of HIV and drug use". A press-conference dedicated to this topic took place on December 1. The press conference was held by representatives of "HOPS", "TSRUJZH" - Tetovo and Mr. Ahmed Kazimi, Head of Public Affairs Department who was speaking on behalf of the mayor, Ms. Teuta Arifi and Tetovo community. During this event a Memorandum of Cooperation was signed that would regulate future work in the field of HIV prevention through preparation, adoption and implementation of the local strategy for HIV prevention (2016 - 2020).
HUNGARY
Director and a sex worker member of SZEXE took part in the Civil AIDS Forum. They made a presentation about sex workers' situation in Hungary and lack of prevention.
KAZAKHSTAN
Natalia Zholnerova from Amelia talked to Kazakh mass media about Amelia and HIV/AIDS.
ROMANIA
ARAS - The Romanian Association Against AIDS organized an information stand in Baneasa Shopping City, Bucharest, where they were raising awareness about HIV / AIDS.
Carusel joined European campaign "Testing. Treatment. Prevention". The aim of the European Week of HIV-Hepatitis Testing is to raise awareness among the population about the serological status and also to reduce late diagnosis of HIV and hepatitis through testing and communicating the benefits of testing.
Carusel organized a number of events:
Nov. 20 - 27: free HIV and hepatitis B and C testing took place in Caracuda - Ferentari Center and Community Center Obor. Tests were conducted by Carusel team members and accompanied by pre- and post-test counseling. Subsequently, in the case of a positive test, Carousel provided accompaniment service to infectious disease hospitals in Bucharest to confirm the result. Also, the organization provided support in accessing social care services available to these people.
Nov. 26 - Dec. 18: an exhibition "My Photo. My voice" at the Faculty of Sociology and Social Work of Bucharest University that features photographs taken by 10 children. The aim of the photographs was to draw attention to the phenomenon of drug use in public places and to improve access to HIV prevention services for those in this situation.
Nov. 27 - Dec. 11: a 30 meter long red ribbon (the international symbol of solidarity with people living with HIV) was hoisted in the facade of the building of the Theater Bulandra - Izvor in Schitu Măgureanu bld. 1.
Nov. 27: bowls of condoms and red ribbons were placed in partner bars and pubs in Bucharest.
Nov. 30: distribution of condoms, red ribbons and flyers in the old center of Bucharest by Carousel team together with students from the Faculty of Sociology and Social Work and members of the College of Social Workers.
Dec. 2 - Dec. 4: distribution of condoms and red ribbons in the hall of the Faculty of Sociology and Social Work of Bucharest University.
RUSSIA
On the 1st of December "Shagi" Foundation together with Moscow Regional Centre AIDS and civic organization "Positive Region" carried out an action that aimed to call to test population for HIV.
On the same day volunteers of "Shagi" Foundation carried out an action in Arbat Street in Moscow. During the action they were distributing leaflets calling for testing and public awareness about the World AIDS Day.
On the 2nd of December Channel OTR (Russian Public Television) was shooting a program themed "Living with HIV and support for HIV-positive" at the one-stop service center "Shagi".
SERBIA
On the occasion of World AIDS Day Association Prevent:
organized a public rally in SPENS ("bath") in Novi Sad on the 1st of December;
together with Stav+ conducted a voluntary confidential testing for HIV in the town square of Subotica on the 1st of December. Testing was free of charge, and the results were ready within half an hour;
organized Positive concert in Novi Sad on the 4th of December. All visitors of the concert were offered educational materials and answers to their questions about HIV by the members of Prevent. The most courageous visitors could test their skills in an exciting game, and get free condoms for participating in the game. 
SLOVAKIA
For the occasion of the 1st of December Odyseus traditionally took part in the European Week of testing in order to inform the population about the benefits of regular testing. The organization published stories of its employees about their experiences with HIV testing, in order to contribute to removing the taboo of testing for HIV, hepatitis and other blood and sexually transmitted infections, as well as inspiring those who are still hesitating whether to make a HIV test. Odyssey also reminded that they educate, test, and provide advice and materials for people who are most vulnerable to HIV risk on constant basis.
TURKEY
Red Umbrella Turkey conducted a street action together with other NGOs (especially youth NGOs) in the center of Ankara: they were distributing condoms, lubricants, red ribbons, flyers, balloons, our publications on sex work.
Young members of Red Umbrella Turkey attended a conference on HIV/AIDS representing the issues of young sex workers that was organized in collaboration with the ministry of health (through a consortium of NGOs).
UKRAINE
Natalia Isayeva, the Director of Charitable organization "All-Ukrainian Charitable Organization Legalife-Ukraine" conducted a themed meeting with students of Kirovograd institute of PJSC "Interregional Academy of Personnel Management University". The main topic of the training was spreading and prevention of HIV / AIDS in Ukraine and Kirovograd region.
On the World AIDS Day Сharitable organization "All-Ukrainian League "Legalife" published a statement on their website.