SWAN members marked the International Day to End Violence Against Sex Workers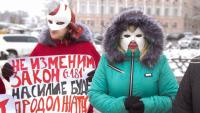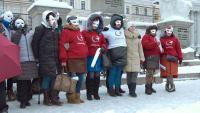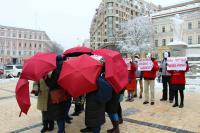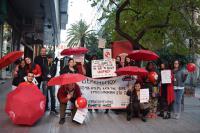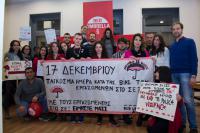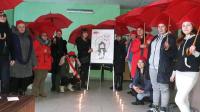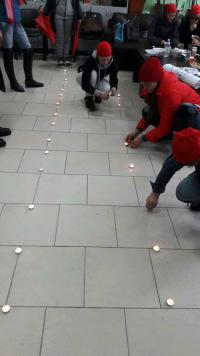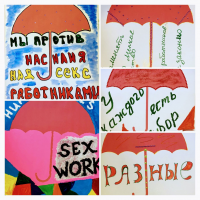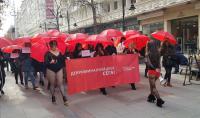 17th of December is marked by sex workers internationally as the International day to End Violence against Sex Workers to raise awareness of the violence against sex workers worldwide, demand justice for the human rights violations sex workers face and to remember the lives of loved ones. In 2018 as in previous years in our region sex workers faced high levels of discrimination, stigma and violence. Lack of laws that could protect sex workers and the systematic criminalisation of sex work also increased the vulnerability of sex workers to violence.
In their 17th of December statement the Global Network of Sex Work Projects (NSWP) 'demands the following actions be taken to ensure the rights of sex workers are respected:
-An end to the criminalisation and legal oppression of sex workers, clients, and third parties
-Equal protection from law enforcement and the criminal justice systems
-An end to condoms being used as evidence of sex work
-Equal access to rights-based health and social services for sex workers, including sexual and reproductive health.'
In the statement Sex Workers' Rights Advocacy Network (SWAN) said: "Sex workers in CEECA region continue to face stigma in medical and social settings, the laws and practices criminalising sex workers, and/or our clients continue to contribute to rights violations and vulnerability. Our working conditions continue to be unsafe and unjust, and put us at risk for rights violations and make us vulnerable to health problems. We demand safe working conditions and human rights, not further criminalisation that prevents us from being able to report violence."
the International Committee on the Rights of Sex Workers in Europe (ICRSE) launched an infographic to highlight the trends of policing and detention of sex workers in Europe and Central Asia. The brief document highlights the detrimental effects of sex work criminalisation and accompanying repressive policing.
On the day, the European AIDS Treatment Group (EATG) published its stand on the 'sex work policy debate and approaches to delivering health-based policies': 'the ongoing and increasing criminalisation of sex work across WHO Europe has negative impact on sex workers' health and human rights. Therefore, EATG aims to further its engagement with sex workers and optimise its contribution to policy discussions in Europe and beyond."
As in previous years, SWAN members organised various events and published statements to demand their rights and to remember those who are lost to violence.
Activists of the sex workers community and members of the Legalife-Ukraine organised protests in Kiev, Mariupol, Vinnitsa, Poltava to raise awareness of the public as well as authorities and the police of the issues faced by sex workers, in particular regarding safety and protection from violence. The activists handed over a letter to representatives of the Main Directorate of the National Police in Kiev inviting them to take part in a round table to discuss key issues with the police in order to reduce stigma and discrimination of sex workers.
Sex workers and allies in Moldova-Beltsy held a rally in memory of those who lost their lives due to violence and lack of preventative laws.After, they held a focus group with Chisinau representatives to assess the legal environment of vulnerable groups
The members of Red Umbrella Athens organised a peaceful protest with banners and red umbrellas. In their statement they said:
"In Greece, people working in the sex industry are marginalised without rights and choices of social inclusion, resulting in their daily victimisation of various violent behaviours of individuals and institutions. It is an "invisible" group of people for society and justice, with no official evidence of the extent of the crimes of hatred and racism, but also the victimisation that they suffer."
Tais Plus published a statement and shared data from their research;
"Violence by the state and society is the reality of the daily life of sex workers. In Kyrgyzstan, the preliminary results of the national survey in 2018 showed that the level of police extortion increased by 60% compared with 2015, the level of arbitrary detention increased 2 times, and the scale of police threats and blackmail 3 times.
In Tajikistan, arbitrary detentions of sex workers are a common practice of the police, which is accompanied by compulsory testing for HIV and STIs. The press reports that law enforcement agencies registered about 6,000 sex workers in January — September 2018. This means that 6,000 people were arbitrarily detained and subjected to violence, blackmail and extortion by the police."
STAR - the first sex workers collective in the Balkans has organised the 11th Annual Red Umbrella March in Skopje, Republic of Macedonia, to mark 17th December. Sex workers, human rights activists and supporters marched in the centre of Skopje with red umbrellas to reinforce the message that violence against sex workers will be not tolerated and send the message: "DECRIMINALISATION NOW!" to encourage the institutions and general public to open the issue about regulation of sex work in Macedonia.
You can find more photographs of the march here.
A video of the march can be found here.