Ukraine Starts Talking about Legalization of Sex Work Again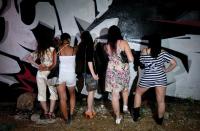 In July and August police busted several premises that were used to provide sex services in Kiev. In one case, the sex workers were arrested and they faced administrative fines, in the other case, the owners are under criminal investigation. At the same time Amnesty International voted for decriminalization of all the aspects of sex work, and shortly after the head of Kiev police Aleksandr Tereshchuk supported the idea of legalization of sex work. Moreover, on August 30 a petition was launched on the e-petition website of the President of Ukraine. The petition aims to "Introduce changes to the law of Ukraine that will enable legalization of prostitution, so that this will increase income to the state budget and will protect citizens". The author and the most signatories are men, and noone consulted sex workers before launching the petition.
So, what do sex workers in Ukraine want? You can read the opinions of representatives of All-Ukrainian League "Legalife" and Ukrainian Charitable Organization "Legalife-Ukriane" within an article that appeared in Kyiv Post on August 28.  Please, find it below.
Sex workers in Ukraine want law to ease up
Natalia Isayeva is a former sex worker. She left the business years ago but says if something bad happens and her family really needs money, for medical treatment, for instance, she might consider going back to "providing services."
According to the current law, providing sexual services for money is an administrative offense, penalized by fines of up to Hr 255 for each breach.
Isayeva, who now heads the Kirovograd-based Ukrainian charitable organization Legalife-Ukraine, which helps sex workers protect their rights, says that now is the right time to decriminalize prostitution in Ukraine. For most sex workers, she says, prostitution is the only way to make ends meet, considering the war and general financial crisis in the country.
"It's not a business, it's not commerce, it's just a matter of survival. We have to stop penalizing it," she told the Kyiv Post.
Global human rights watchdog Amnesty International agrees. In a vote taken on Aug. 11 at Amnesty International's decision-making forum, delegates from around the world decided to "develop a policy that supports the full decriminalization of all aspects of consensual sex work," according to a recent report from the organization.
"Sex workers are one of the most marginalized groups in the world, who in most instances face the constant risk of discrimination, violence and abuse," Secretary General of Amnesty International Salil Shetty said in the report. "Our global movement has paved the way for adopting a policy for the protection of the human rights of sex workers that will help shape Amnesty International's future work on this important issue."
Olena Tsukerman, the executive director of another NGO that protects sex workers' human rights, the Kyiv-based All-Ukrainian League Legalife charitable organization, and an activist of the sex workers' community, says that the number of people paying for sex has been increasing lately in Ukraine.
A couple of years ago, according to unofficial statistics, there were about 90,000 of sex workers in Ukraine. Now, Tsukerman says, the number is 100,000 or more "due to the economic situation in the country."
"It's rare for migrants (from the war-torn Donbas) to easily find a job in a city in which they've come to live temporarily, and this makes it more likely that they'll get involved in sex work," Tsukerman told the Kyiv Post. "These people didn't plan to do it – it wasn't their first choice."
She says that, unfortunately, most of those who get involved in sex work in these circumstances know hardly anything about the risks or even how to protect themselves against sexually transmitted diseases.
"It takes a lot of effort for us to inform these people, so that they can make this decision consciously. We want them to understand that sex work isn't legal in this country, that they're vulnerable to violence and abuse, and getting infected with diseases, as many clients don't want to use condoms, while more than 90 percent of sex workers do," Tsukerman said.
According to Isayeva and Tsukerman, sex workers in Ukraine are at risk of being beaten up or raped not only by clients, but also by police officers who issue fines. However, when sex workers complain to the police, according to the NGO workers, they often are ignored and told: "Go away - you're a prostitute, it's your own fault."
They also told the Kyiv Post that sometimes sex workers pay off policemen to turn a blind eye to their work.
The topic of sex workers being exploited by the police caused a stir in Ukraine's online media earlier this month after the Interior Ministry reported that it had busted a "VIP brothel" in Kyiv. The capital's chief of police, Oleksandr Tereshchuk, said police had been extorting money from of the city's prostitutes.
"Prostitution is being covered for (by policemen), they keep collecting money from it, and this needs to stop," Tereshchuk said at the time.
And Interior Minister Arsen Avakov writing in April in his blog on the Ukrainska Pravda news website, also acknowledged he knew about police "covering for prostitution."
"The employees of the Department for Combating Organized Crime in Kyiv haven't been fighting against prostitution and brothels, even more – they designed and systematized (a scheme) for exploiting the brothel networks. The monthly 'income from the prostitutes' of the management of the Kyiv Department for Combating Organized Crime is estimated at about $350,000," Avakov wrote.
He said that all of those involved in the schemes had been dismissed and that an investigation had been launched.
But Tereshchuk, talking at a press briefing on Aug. 14, said that he was still unsatisfied with the work of the department.
"I fired people once, and I'll do it again if I have to," he said.
He said that one way of tackling police schemes that exploit sex workers would be to legalize prostitution in Ukraine.
"Let's look at Europe today. In many countries prostitution has been legalized, it provides income to the budget, and (sex workers and clients) get better conditions: medical, hygienic, and so on. I'm not saying we have to legalize it right away, but I see it as one of the solution," Tereshchuk said.
Ukrainian sex workers themselves, however, aren't yet ready for legalization. They just don't want to be outlaws anymore, Tsukerman says, adding that for many it would be enough for prostitution to be declassified as an administrative offense.
"There's no need to raise the issue of legalization immediately, as it's a long process that has to start with decriminalization," she said, adding that even if a dialog about legalization is launched, it has to involve both the government and the sex workers, who would have to explain to the authorities how they want to organize their work.
Moreover, not all sex workers would want prostitution to be legalized at all, especially if it's no longer an administrative offense. Tsukerman said that in any profession there are always people who don't want to pay their taxes.
And Isayeva, talking about the possibility of again providing occasional sex services if she had to, said that she would not go to register as an entrepreneur to do this.
"Many women just consider it a possibility to earn some extra money, and not even work," she said. "Like in my case. I would do it as a paid favor. That's all."
Original article can be found >>here
Photo credentials: © Kostyantyn Chernichkin