Health and Social Development Foundation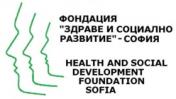 Countries
Contact Person
Rayna Dimitrova
Email
Links
SWAN member since 2006
The mission of HESED is to carry out health promotion activities and to stimulate social development of underprivileged groups and communities on the territory of Bulgaria. The main target groups are sex workers, Roma people and men having sex with men.
In 1997, HESED was the first Bulgarian organization to start focusing on problems of sex workers in the country. Outreach work is based on accessibility, anonymity, confidentiality, and professionalism. The members of the team are professional psychologists and social workers. They offer free services such as health education and consultations; dissemination of specially designed educational materials, of condoms and lubricants; referral and accompanying to health and social services; harm reduction, needles and syringes exchange and training of peer educators.
The most important HESED projects focused on sex workers have been:
AIDS on Wheels – This project, run between 1997-2000, was the first step in the outreach work among sex workers. It adapted the existing European experiences to the Bulgarian situation.

Albena - Run between 2000-2003, the project developed a multilevel approach in addressing sex workers, services offered to them, and social and political environment. It involved intensive exchange with Dutch services and resulted in first Mobile Medical Unit for sex workers in Bulgaria.

Harm Reduction Program – Since 2000 harm reduction services have been added to sex workers outreach.

Power of Prevention - This ongoing project, run between 2005-2007, is a regular exchange of experiences and a tri-lateral cooperation with Serbia and the Netherlands. Practical guidelines for outreach among sex workers are being developed. Comprehensive study of indoor prostitution was carried out.
Says Anastas Mihaylov: "As a result of many years of outreach work, accumulated experience and in-depth knowledge of the problems and about appropriate approach to sex workers, we established a Mobile Medical Unit in 2002. The Unit team consists of a dermato-venereologist and a nurse from Dermato-Venereological Dispensary, as well as two outreach workers. In this way it constitutes the missing link between sex workers and the existing health care system."
The Mobile Medical Unit parks at a set time and place convenient for sex workers and offers free services such as medical consultations, check-ups and referral to other health services, pre- and post-testing conselling, HIV/AIDS/Syphilis/ Hepatitis B, C testing, and treatment of STIs.
Although service provision is its strong focus, HESED is very active in advocacy among professionals and working directly with prostitution. In the framework of Albena, guidelines for medical professionals working with sex workers were developed, and changes of curricula in police academy made. HESED currentlypecific seminars for police officers and care providers, holds regular lectures at the Police Academy related to SW issues, and organizes public end expert discussions on prostitution, with the participation of relevant ministries, municipalities and decision makers. It actively participates in the ongoing public discussions on legalization of prostitution in Bulgaria. puts together s
Among HESED donors are: European Commission; MATRA Program of the Royal Netherlands Embassy, UNDP, UNAIDS, UNICEF, Center for AIDS Intervention Research, Medical College of Wisconsin, USA, AECI, Open Society Institute, Bulgarian Ministry of Health, and Bulgarian National HIV/AIDS Prevention and Control Program.