… at the AIDS 2008 conference …
Hi! My name is Irina Maslova from St-Petersburg, Russia. This summer I had a great opportunity to take part in XVII International AIDS Conference thanks to the support I received from the Prostitution Programme/Sex Work Projects in the Netherlands and the SWAN network, which I represent in Russia.

I will try to present the most important and interesting moments before and during the conference.

PART I. Pre-Conference and Parade
My very first and strongest impression was my participation in a four-day pre-conference for representatives of regional sex worker networks (July 30 – August 2, 2008). Some of the participants I knew from the second Regional HIV/AIDS Conference in Eastern Europe and Central Asia which took place in Moscow in May this year, while with others I met in Barcelona at the 2008 Harm Reduction Conference.

The great friendly atmosphere and familiar people helped me overcome the language barrier. It's a shame to admit, but my English leaves much to be desired. I would like to thank Gulnara Kurmanova from Tais Plus, SWAN member from Kyrgyzstan, who all those days virtually was an interpreter for me, though she had a lot of responsibilities herself, being one of the speakers.

At that meeting we represented different organizations, different regions, we have different strategies, but there is something important that united us: we are sex workers and their allies and we demand to be heard and remind people about our existence. That is why, after all the arguments, heated discussions and debates, having developed a universal strategy, we issued the Declaration of sex workers at the International AIDS Conference, Mexico 2008.

I had an unforgettable impression of sex workers from Cambodia, the winners of the International Red Ribbon Prize founded by UNDP to celebrate successful experiences in fighting HIV/AIDS at the local level.

Cambodia introduced an anti-trafficking law, which lead to massive violation of human rights of sex workers. This law mistakenly connected sex work with trafficking. Sex workers are forced to so-called "rehabilitation centers", where they are raped and robbed by the police and prison guards. Thousands of women have lost their livehood.

HIV positive sex workers have great difficulty in accessing ARV's- both in and outside the detention centers. Condoms are used as evidence of sex work and carrying condoms leads to arrest or forced "rehabilitation." So the law scared sex workers to carry condoms and access STI services. So the law resulted with worsening the HIV-prevention among sex workers in Cambodia.

Other countries in Asia and other parts of the world also plan to issue similar laws.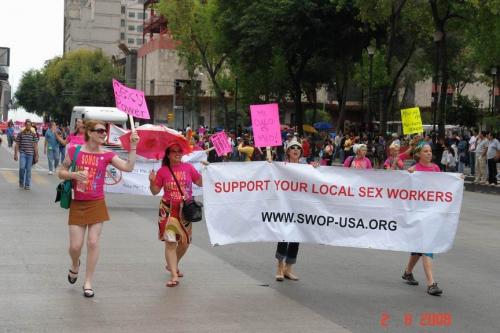 We also took part in a March Against Homophobia organized on August 3 by sex workers from Mexico. We went through the streets, a bright crowd, in pink t-shirts with posters and slogans, most of which we made ourselves, all the way from the Angel of Independence, through the Reform Street until the downtown.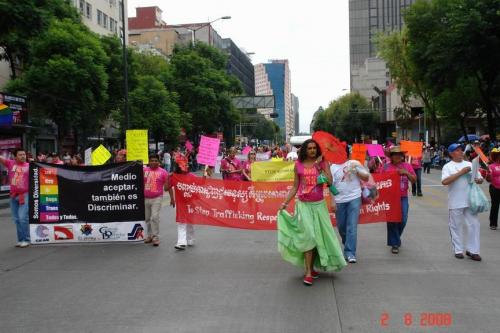 It's difficult to express my impressions, it is better I use the words that symbolize my feelings: unity, force, power. Though I don't speak English I also chanted with others that SEX WORK IS WORK and that SEX WORKERS' RIGHTS ARE HUMAN RIGHTS - in perfect English and Spanish!

Along the route of the parade I met Nastya Agafonova of ITPC, a friend of mine from St-Petersburg.

Says Nastya: "The greatest impression in Mexico was the March Against Homophobia… I was standing on the sidewalk in the crowd of spectators while the demonstrators were passing by. Both the Mexicans and numerous tourists stopped still and watched this bright procession.

They watched the demonstrators, studied them carefully and talked among themselves – almost no one was indifferent. It was obvious that most of them were shocked and didn't know how to react.

The rally participants meanwhile were throwing condoms around and shouting out slogans. Some of the passers-by, Mexicans, asked me what this demonstration was about and what does homophobia mean.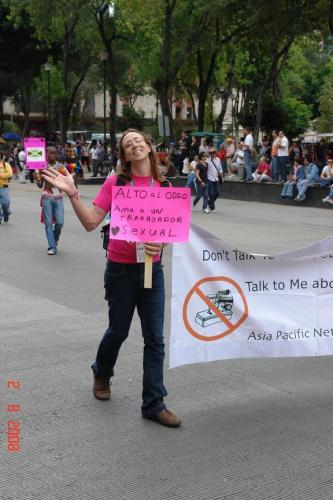 The aura around the demonstrators was really strong and you could feel the unity and solidarity. One thing which I would change in such marches is better communication of the message. What I mean is that many people did not understand who these people were and what they wanted. There was not enough information.

I think it would be great if such marches were accompanied by fliers, leaflets to explain why this march is necessary, what is it meant for, so that it does not turn into a show which will be forgotten in 2 days. It is important to bring out the message about stigma and discrimination, about issues and rights of MSM, sex workers and other groups."

PART II. The Conference
3-8 August, 2008. Mexico-City.
It is really a huge event. The fact that 175 sex workers from the whole world are at the Conference gives you additional strength not to get lost in this huge 25-thousand-participants crowd.

The official part (plenary, parallel sessions, seminars) took place in the Banamex Center with booths of various organizations, poster exhibition, a press-center and a great amount of conference zones.

The key session connected to our work was a section dedicated to sex work and human rights. Besides other important aspects, Gulnara Kurmanova talked about the need to provide access for sex workers to the development of global policies that have impact on them, about the development of UNAIDS/UNFPA mannual on sex work and HIV.

There were many unofficial meetings on the fringe of the conference as well as in the lobbies of the conference center. For example, we had a chance to talk about our experiences from the High Level UN Meeting on AIDS that took place in June 2008 and saw participation of sex workers, including a SWAN member (note of the editor: an article about the meeting is available in this issue of the SWAN News, go here) with the Ambassador of the Netherlands and Ford Foundation representatives.

At the special session which was dedicated to research (Lancet session), we planned to rise an issue about the fact that when making a research the sex workers are perceived as "objects" of the research, and are not accepted as equal participants. We couldn't do it because the session was organized in such a way that the audience simply did not have an opportunity to ask questions to the panel.

The role of sex worker rights movement and the empowerment of sex worker communities in the context of addressing HIV still remain unclear. Actual and potential contribution of sex workers to policies and programs impacting them still remain unrecognized by those who have high political influence. It is important that international activists and sex worker rights advocates direct their efforts to the role of sex workers in the processes that impact their lives.

The Global Village was placed on the hippodrome next to the Banamex Center. So going from Banamex to Global Village and back several times, I walked some 5-10 km daily.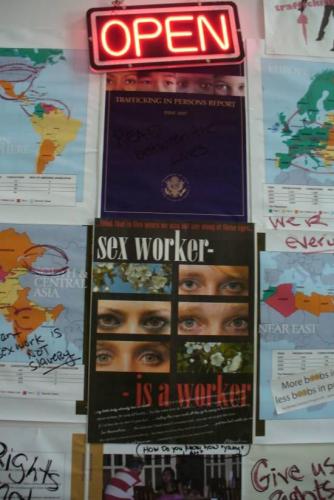 The atmosphere in the Global Village was more relaxed and less official. The community was bright and colorful. The Indians fumed everybody with essences to chase away evils, sex workers surprised everyone with their outfit, the Africans played drums, energetic youth danced and sang, creativity blossomed in all colors and variations. The atmosphere of the Global Village made you think you came to a different planet. In spite that key messages of their actions were not always clear to understand and the main idea was ambiguous, this still added to the exotic atmosphere! Another positive thing (though from the first site it can look like nothing positive at all) - the non-stop hubbub - one of the features of the Global Village – in reality gave the conference a touch of informality, because if you do not have a microphone, you have to stand very close to your opponent and smile and for the tenth time repeat one and the same phrase which the other one could not hear! It was really great!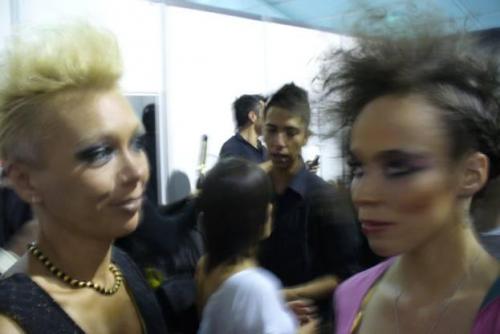 There is one more action which I should mention! Fashion Show of Daspu! It was an event organized by a Brazilian organization of sex workers called Davida, from Rio-de-Janeiro.

I got an invitation to participate in this show a week before the conference and of course I agreed! New experience, new impressions and emotions. More that 30 participants speaking various languages and inspired by a great idea and brave choice of clothes.

Back home I was not able to explain how we had managed our rehearsals and preparations, often not understanding a word, using only gestures and "repeat after me" principle.

But the audience thought that our efforts, the professionalism of stylists, talent of the designers and general inspiration of participants made the show brilliantly successful. Right before my eyes an average women turned to graceful top-models... At the show the audience seemed to be totally impressed by us... This was our triumph and our victory!