Our Lives Matter: Sex Workers Unite for Health and Rights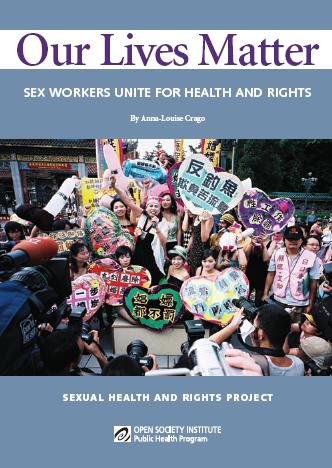 Our Lives Matter: Sex Workers Unite for Health and Rights

Our Lives Matter: Sex Workers Unite for Health and Rights published in August 2008 by the Open Society Institute and written by Anna-Louise Crago highlights the creative ways in which sex workers in eight countries have organized to defend their human rights and health. The groups featured in this report include:

• Davida, Brazil
• Durbar Mahila Samanwaya Committee, India
• Durjoy Nari Shongho, Bangladesh
• Humanitarian Action, Russia
• Odyseus, Slovakia
• Sex Worker Education and Advocacy Taskforce, South Africa
• Stella, Canada
• Urban Justice Center's Sex Workers Project, United States

Our Lives Matter describes how these groups have challenged unfair incarceration, violence, extortion, eviction, and humiliation; fought for equal access to health care services; and called for sex work to be officially recognized as work.

The publication can be downloaded here.