Amnesty International voted for decriminalization of sex work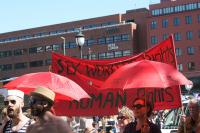 The vote came on the last day of a biennial meeting in Dublin of about 400 members of the human rights organization from 60 countries. They had gathered to set the group's future policies. The resolution recommends a policy that would decriminalize all aspects of adult, consensual sex work, while still classifying coercion into sex work or having sex with a minor as a major human rights violation. The resolution is intended to protect adult sex workers from stigma and abuse by decriminalizing aspects of sex work including buying sex, pimping and operating a brothel.
   "This is a historic day for Amnesty International. It was not a decision that was reached easily or quickly and we thank all our members from around the world, as well as all the many groups we consulted, for their important contribution to this debate. They have helped us reach an important decision that will shape this area of our human rights work going forward," said Salil Shetty, Secretary General of Amnesty International.