CA Odyseus Held a Meeting with the Police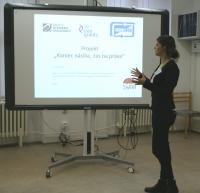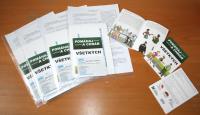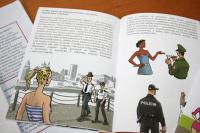 "Sex workers have to encounter many problems at their work. However the most common one is violence, whether from customers, passers-by and even from institutions that are supposed to protect their rights. Therefore we decided to focus our project not only on the activities for women working in the sex industry, but also on activities for the police, "said the coordinator of the Red Umbrella Project Olivia Strelkova.
The project "End of Violence, time for rights" is focused on monitoring ongoing violence in Bratislava. According to this monitoring, preliminary results shows that 25 of the 26 surveyed sex workers have experienced at least once violence at work during last year. In fact, 10 respondents said that they don't want to report it to the police, because of their previous experiences. This has been also one of the topics Odyseus have discussed with police.
"The main aim of the meeting was to find some solutions together, how Odyseus and police can cooperate in cases, when sex workers are the victims of violence. We were surprised by the good outcomes of this 1st meeting and hopefully, it is going to continue this way", said Strelkova.
CA Odyseus has also released a brochure for the police officers which has been written by sex worker and ex-policeman. Brochure should contribute in decreasing of cases where police is acting as violator of human rights of women working in the sex industry. It mainly contains information about harm reduction methods suitable for working with the target group, the personal experience of women working in the sex industry during their encounters with the police and their pieces of advice and views focused on what could facilitate better communication and collaboration between police and sex workers. Included are also useful recommendations on prevention and solutions for cases of violence committed on women and important contacts on supporting organizations.
"We hope this meeting was first from the many to come focused on development of cooperation which we are planning to realise together with police" add Strelkova.