Silver Rose has joined the 1st of May march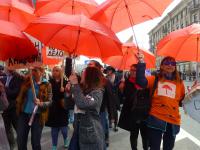 Silver Rose has joined the march together with the "Unwanted Organization", a queer feminist affinity art group. For "Silver Rose", this May Day was the first experience of direct political action.
"Our solidarity shows that although we work in different spheres, there is only one front of struggle - rotten morals, social prejudices, capitalism and inequality"- stated Silver Rose. The event was accompanied by a hashtag #strongweare (#сильныемы) on Facebook.
The march was peaceful and Silver Rose attracted the attention of the media, who wrote many articles after.
On some forums men are writing that they would join us too. Without vulgarity. Out of solidarity,"- said Silver Rose member.
For Silver Rose and many other organisations 1st of May was the only day in a year when they could legally join the march and express their views.
The russian law banning unauthorized demonstrations requires getting special permission before gathering.
"The official legal process for organizing a public rally only requires notification to the local authorities, including the time, place, and estimated number of participants, but not receipt of a permit from the authorities. However, in practice the authorities often refuse to sanction protests, using various pretexts and suggesting alternative, less prominent locations to organizers. This practice pushes organizers to hold "unauthorized" demonstrations and to face detention and administrative punishments for violating the rules or for not complying with police orders."- informs Human Rights Watch.

"No one can share his opinion, because the presence of the most severe dictatorship of power and violence in the country. Everyone who does not agree is prosecuted, fined and punished. We were left undisturbed this year, because no one expected that we would go out openly and express ourselves. Next year on May 1, everyone who will be with the Red umbrellas, as well as the guys with the LGBT flags, will be quickly taken by the police, " said Irina Maslova, leader of the Silver Rose.
"We are pleased that we have joined, that we could show our strength and fearlessness. Will we do it next year? Time will tell,"-Irina added.
Photo: Facebook