The Red Umbrella: What does it symbolize and why is it used by sex workers?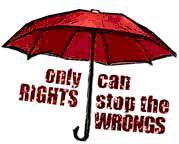 The red umbrella was the first time used by sex workers and allies in Venice, Italy in 2001. The so-called First World Congress of Sex Workers was an art installation by the Slovenian artist Tadej Pogacar, placed within the 49th Venice Biennale, between 6th and 8th June 2001. Organized on a public space in a tent, in the "Prostitute Pavilion", the event had as participants groups and individuals from Taiwan, Thailand, Cambodia, Vietnam, Italy, Germany, USA and Australia. They presented the situation on the market and discussed the strategies to fight for civil rights of sex workers. They organized video projects, exhibitions, performances, activist street theatre, and distributed publications.
One of the activities was the Red Umbrellas March. Sex workers marched the streets of Venice and used megaphones and red umbrellas, drawing attention to the bad work conditions and the human rights abuses they face. The march started at the Pavilion tent and went through the city centre.
The march route incorporated the geography of the social history of sex workers, from the famous Venetian courtesans Veronica Franco and Gaspara Stampa until today.
In 2005 the International Committee on the Rights of Sex Workers in Europe (ICRSE) adopted the red umbrella as a symbol of resistance to discrimination.
The initiative was welcomed by the community and other sex workers' groups followed, around the world. What started as a simple idea is becoming a global symbol for sex workers' rights.
Red is a color of beauty and an umbrella is the resistance to sky's and humans' attacks. It symbolizes protection from the abuse sex workers are subjected by the police, pimps, customers, and an ignorant and biased society.