SWAN publishes its new Strategic Plan for 2018-2022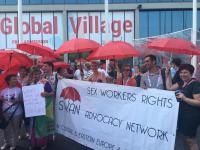 The SWAN Strategic Plan 2018-2020 outlines the mission, values, goals and strategies of our network.
To develop this strategic plan, SWAN commissioned research among its members and partners to assess its past work, and learn about priorities for future work. Organisations from 12 different countries responded and a total of 124 people were consulted of whom 95 were sex workers. A report on SWAN's 2014 – 2017 Strategic Plan, was drafted and distributed. Using information from this report as well as their own knowledge and opinions, SWAN's Management Committee gathered for a 3 day planning session after which it worked with the SWAN staff and an external consultant to create this strategic plan for 2018 – 2022. The plan was endorsed by SWAN membership on June 4th, 2018.
Contents include:
-Background
-Overview
-Mission, Goal & Objectives
-Areas of Action and Types of Activity
-Impacts
SWAN also shares its Monitoring and Evaluation Framework where it outlines how the progress towards achieving its strategic goals will be tracked as outlined in the Strategic Plan 2018-2022.
Please click here to download the Monitoring and Evaluation Framework in English
Please click here to download the Monitoring and Evaluation Framework in Russian
Please click here to download the Strategic Plan in English
Please click here to download the Strategic Plan in Russian