SWAN Joins European Testing Week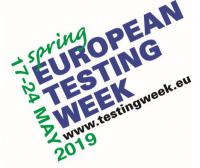 SWAN supports the second Spring European Testing Week which will take place 17-24 May 2019. European Testing Week is a European campaign that encourages partner organisations—in community, health care and policy institutions-- throughout Europe to unite for one week (during Spring and Autumn) to increase testing efforts and promote awareness on the benefits of earlier hepatitis and HIV testing. This initiative has progressed since its start in 2013 and has grown to be a widely recognised European event with hundreds of organisations participating every year.
Join the campaign to increase access and help to raise awareness on the importance of hepatitis and HIV testing.
To read more about European Testing Week and to register to participate, click here.
To find your nearest testing centre, use the European Test Finder here.