SWAN publishes its Annual Report for 2018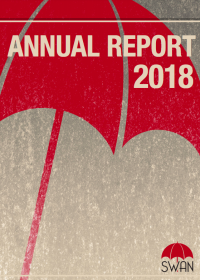 After its introduction by the Global Network of Sex Work Projects, the Sex Worker Pride day becomes the fourth annual key date of the sex workers rights movement. Globally sex workers face many challenges in day to day life. We are being marginalised, stigmatised and stripped from our rights. Our voices are often ignored but we never stop pursuing the rights we desperately need. The sex workers rights movement is powerful with a vibrant and diverse community that has drive and compassion that's too big to be stopped by the difficulties we are facing.
To mark the first Sex Worker Pride day, SWAN publishes its Annual Report that shows SWAN's work in diverse areas in order to achieve our objectives as laid out in our Strategic Plan 2018-2022. We join our members, colleagues and allies in celebrating our never ending passion for creating a better world for sex workers.
Together we are strong, together we will stand and together we will thrive.
This annual report is available in English and Russian.
Contents include:
ABOUT SWAN
OUR ACTIVITIES IN 2018
-Enabling exchange of experience and learning between SWAN members
-Provide training and technical assistance to members
-Building and documenting consensus among sex workers on priorities and positions
-Making the voices of sex workers heard and influential
-Building and maintaining relationships with key stakeholders
-Maintaining good governance of SWAN as a sex worker-led network
-Strengthening the SWAN secretariat
-Improving communication and increasing visibility about the needs and achievements of SWAN and its members
-Ensuring sustainable funding through enhanced fundraising efforts and diversification of funding sources.