According to estimates, up to 3.5 million irregular migrants were living in the EECA countries at any given moment, representing more than 1 percent of the region's total population.
2021 theme is Harnessing the potential of human mobility as migrants contribute with their knowledge, networks, and skills to build stronger, more resilient communities. The global social and economic landscape can be shaped through impactful decisions to address the challenges and opportunities worldwide mobility and people on the move.
On the eve of International Migrant Day, December 18, Staša Plećaš, SWAN Executive Director, spoke on migration and sex work issues in CEECA. The roundtable entitled Migrants' access to healthcare in Eastern Europe and Central Asia: shaping interventions grounded in research evidence gathered online regional experts and practitioners daily dealing with an acute migration agenda.
While migration is driven mainly by economic reasons – which is valid for all population groups – sex workers, by moving abroad, look to protect their privacy in the first turn. Thus, anonymity remains a common survival mechanism. Another reason is whorephobia or a sex work-related stigma and prejudice followed by the need to earn. Sex workers, primarily women and persons with diverse genders, are pushed by the lack of employment opportunities and low earning potential, searching for safer, improved working conditions. Some of them are escaping police crackdowns and abuse.
Here are the key facts on the research:
• SWAN briefing paper on migration presents the mapping findings as of 2021.
• It explores the situation and needs of migrant sex workers in the Central, Eastern Europe, and Central Asia regions (CEECA).
• Despite the significant scale of migration of sex workers throughout the region, there is a lack of available research on the specific experiences of migrant sex workers and what support is available to them.
• Methodology included membership questionnaires, semi-structured interviews, and desk research.
• experiences of migrant sex workers in ten countries were explored in-depth through the various responses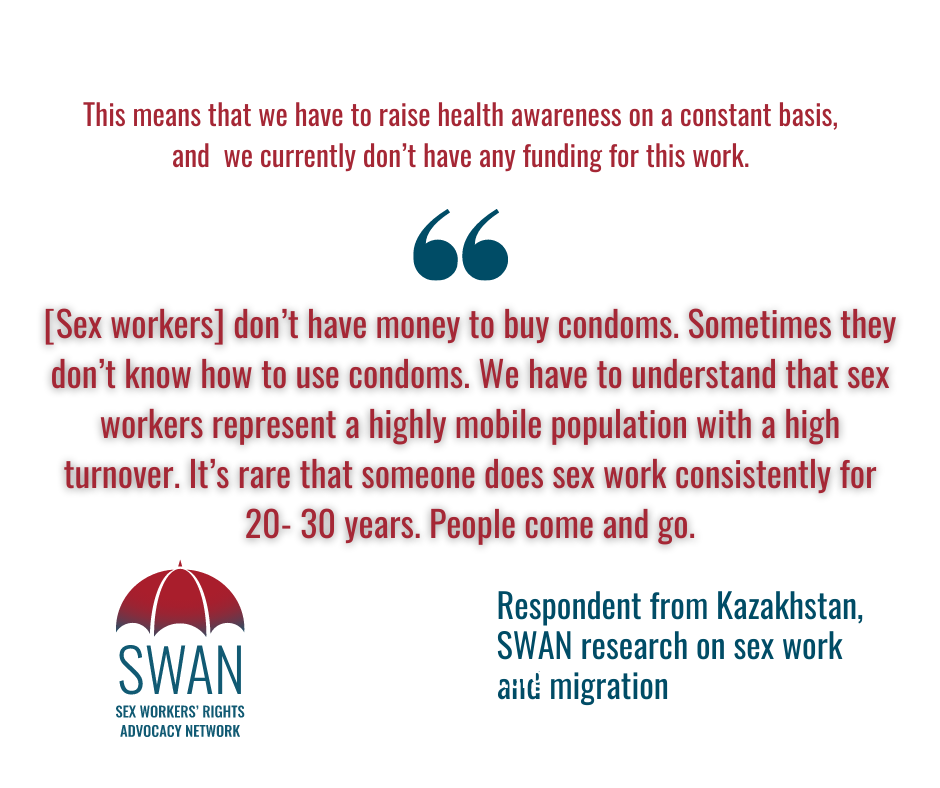 The main findings concern the impact of criminal laws and their intersection with immigration policies that increase pressure on 'unwanted' migrants and greater scope for their detention and removal. The report goes beyond that and looks into issues of HIV criminalization and HIV travel bans, barriers to health, specifically to accessing HIV treatment. The research sheds light on other implications to sex workers' health: including sexual and reproductive care, poor access to health by transgender sex workers. It examines the intersecting COVID-19 impacts on migrant sex workers as well.
For the future, the focus on the need for more research and needs assessments enhanced regional collaboration for urgent actions and leveraging the legal support mechanisms. The advocacy targets for donors include the recognition and scale-up unmet needs of migrant sex workers and the unique role of sex worker-led NGOs.
During the event, various issues were covered, including presenting the problems on migration and TB studies that explore migrants' access to HIV service in the Russian Federation, Armenia, and Uzbekistan. The meeting was completed with a discussion on policy recommendations based on evidence from the research and facilitated contributions for future research on migration, HIV, and TB care.
The event was hosted by the Regional Expert Group on Migration and Health, TB Europe Coalition, with HIV Policy Lab (Georgetown University).
You can also read the full text of the briefing paper on sex work and migration by SWAN.